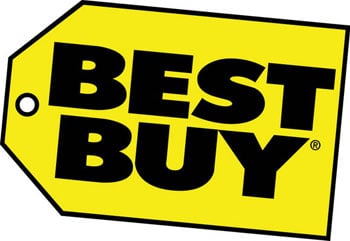 (via HDGuru.com)
Today, Best Buy started permitting its customers to price match consumer electronics, including HDTVs, Blu-ray players, sound bars, DVRs and other items, sold by Amazon and many other online retailers.
However, Best Buy is also significantly changing its return policy, with more restrictive conditions under the new program. These changes affect a customer's ability to return items they find unsatisfactory or defective, as well as limit one's ability to get the best price during the return period. Ahead we lay out the new policy, discuss work arounds and compare Best Buy's new HDTV price match/return rules to Amazon's.
Best Buy's policies: new and old
Best Buy's old price match and return policy permitted customers up to 30 days to return HDTVs and other products and price adjustments up to 30 days after purchase. These policies are no longer in effect.
Today, Best Buy presents its new "Low Price Guarantee" policy which limits you to a 15-day return policy, with no more free return pickup of 46-inch or larger HDTVs.
Best Buy's new policy has other restrictions. As explained to HD Guru by a Best Buy spokesperson, a customer will only be allowed a price match from an online-listed retailer at time of purchase. If a competitor drops the price within the 15-day return period, you will not be able obtain a subsequent "price match." The policy is further limited to one specific item and one price match per customer.
The new Best Buy "Low Price Guarantee" policy is a radical departure from its prior policy enacted for the 2012 Christmas selling season. Under those rules, which expired on March 2, 2013, Best Buy customers could receive a retroactive price match (from a listed online retailer) and refund of the price difference up to 30 days after the purchase of an HDTV and many other items.
The major online retailers covered by the new "Guarantee" are : Amazon.com (direct-only no third party vendors), Apple.com, bhphotovideo.com, Buy.com, Crutchfield.com, Dell.com, , Frys.com, hhgregg.com, HP.com, HomeDepot.com, Lowes.com, Newegg.com, OfficeDepot.com, OfficeMax.com, Sears.com, Staples.com, Target.com, TigerDirect.com and Walmart.com . Major etailers not covered under the new policy include abt.com and jr.com.
What about Bestbuy.com?
During the 15-day post-purchase period, customers may only receive price-match refunds of the difference if Best Buy or bestbuy.com drops the price. HD Guru has previously written about Best Buy's dual price policy and strongly urge you to check the bestbuy.com price prior to making any purchase within the store, as its own online price is often lower on the same item. You must bring this to the attention of the cashier to get the lower price at the store checkout.
Workaround
HD Guru recommends if you see a lower price at a listed etailer or retailer within a 25-mile radius of the store during the 15-day post purchase period, bring the ad (or print it out) with your sales receipt and plead your case for a price match to a Best Buy manager. Since you have the right to return a TV within the 15 days, you can tell them that if they don't refund the difference, you'll simply bring the TV back for a refund.
Furthermore, there is nothing in the policy that prevents you from having someone else, such as a friend or spouse, to purchase the same model TV for you, thereby getting the lower price. Now, faced with the prospect of an open box return and having to match the price anyway, the manager may elect to simply refund the difference.
Amazon's policy
Amazon Direct 14-day Price match policy only applies to TVs. However all HDTVs sold by Amazon direct have a 30 day return, which includes free return shipping. Its HDTV price match policy reads as follows:
"If you find a lower price on another qualifying website within 14 days after the date we ship your order, let us know and we'll credit your original payment method taking any differences in shipping and promotions into account. If we lower our own price within 14 days after we ship your TV, let us know and we'll refund you the difference as well."
You can request a refund for the price difference through the "Found a lower price?" button on the Order Summary page in Your Account. If you have questions or concerns, use the "Contact Us" button on the right side of any Help page to contact Customer Service about the TV Low Price Guarantee.
Eligible Amazon Price Match Websites
Below is the list of websites whose offers are eligible, subject to compliance with other terms and conditions. You can find the full TV Low Price Guarantee policy here :
bestbuy.com, bhphotovideo.com, buy.com, buydig.com, cdw.com, circuitcity.com, compusa.com, costco.com, dell.com, electronics-expo.com, frys.com, hhgregg.com, newegg.com, paulstv.com, samsclub.com, sears.com, target.com, tigerdirect.com, us-appliance.com, vanns.com, walmart.com
The Guarantee applies only to retail offers by the retailer operating one of the listed websites, not to offers by third-party sellers appearing on such sites."
In addition to enjoying a better price match policy, Amazon TV purchasers still do not have to pay sales tax at the time of purchase in states that collect it, with the exceptions of CA, TX, KS, KY, NY, ND, PA and WA. You always must pay sales tax (in states that collect it) along with the purchase when buying at a Best Buy or any brick and mortar store.