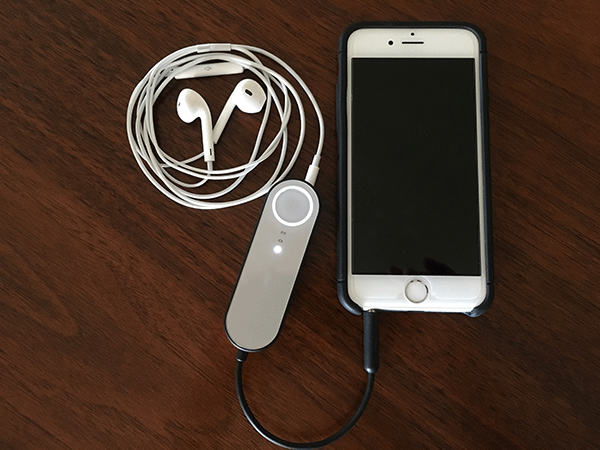 Great sounding headphones often come with a less-than-great price tag, leaving many to use the headphones that come standard with their smart phones. A new device from BoomCloud 360 announced yesterday called the BoomStick promises to improve the sound quality produced by any headphones, even your cheap-o ones.
The concept of tricking your ears to enhance sound quality has actually been around for years. For instance, Dolby's Virtual Speaker uses algorithms to manipulate sound waves, making two-channel stereo sound into 5.1-channel sound without a giant, expensive system. The BoomStick analyzes the music you're listening to and enhances bass and brings out details that you'll often miss with lower quality headphones.
BoomStick uses an audio processor housed in a small dongle with a processor that you just connect between your headphones and anything with an audio jack. Turn it on to enhance sound in regular listening environments or double tap to boost sound in loud environments.
When our editor, Suzanne Kantra, tested the BoomStick, she noticed a much wider sound space and greater detail in everything from female vocal tracks and jazz to classic rock and pop. And, overall, the music was louder with the BoomStick turned on, since sound is boosted to enhance detail and base. After testing the Boom stick with the ear buds that come with the Apple iPhone 6s, a pair of Shure SRH750DJ over-ear headphones, a pair of Shure SE315 in-ear headphones and a pair of Monster iSport over-ear headphones, she found the most noticeable difference was with lower quality headphones, like the ear buds that come with Apple's iPhone 6s.
If you want to get a sense, you can check out the demo on boomcloud360.com. There are three songs that you can listen to with and without the technology. With the BoomStick's technology, the songs sound louder, but they have an enhanced bass sound, along with the production details you often miss out on unless you have fancy headphones. The BoomStick also offers a few different modes so you can get the sound just right for whatever you're listening to.
While it's small, it is another thing you have to carry around and remember to charge, which is a drawback. However, getting a set of headphones that enhances sound like this often costs much more than the BoomStick, so it could be a good option.
The BoomStick has 14 hours of battery life (rechargeable with a microUSB cord), and will pass through audio cleanly when it's off.
The BoomStick is available in silver and black. You can pre-order on boomcloud360.com now for $99 and products are expected to ship in March 2016.
It will be interesting to see where the company - and the technology - goes next.
[BoomStick and iPhone via S. Kantra/Techlicious]