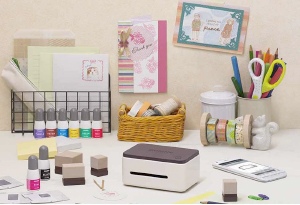 The 3Doodler 3D pen isn't the only neat arts and crafts item on display at the International Consumer Electronics Show 2014 in Las Vegas. Casio is using the occasion to introduce its new pomrie WiFi rubber stamp maker to the scrapbook-loving U.S. public.
Using the pomrie requires you to download Casio software to your Windows PC or Android smartphone (2.2.3 or later). Once you have your preferred design, you print it on your choice of seven stamp sizes. Attach the printed stamp face to an included stamp base, apply your own ink, and stamp away. Stamps last for about 50 impressions depending on the stamp face design.
The Casio Stamp Maker lets you create anything from the mundane – say, a stamp for your return address to use on envelopes – to fanciful scrapbook-ready designs. You can apply digital effects and create stamps based on photos or your kids' drawings. Don't worry if you lack a creative spark though: The pomrie comes pre-loaded with over 650 designs.
The Casio pomrie is available in both USB-only and USB/WiFi models; pricing has not been set. Stamp kits are available in sizes ranging from 15mm x 15 mm to 45mm x 90 mm. Pigment ink is also available for purchase.