Today, Dell announced the new Dell Streak 7, the first tablet for T-Mobile's 4G network. As you might guess form the name, the Dell Streak 7 sports a 7-inch display, covered with a tough layer of Gorilla Glass, and runs Android 2.2 (Froyo) operating system.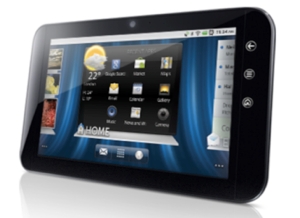 I had a chance for a brief hands-on at today's T-Mobile press conference and came away unimpressed. Yes, it has 4G capabilities and a dual-core processor (which should mean that apps will run faster). But the 800x480 display is not as detailed or bright as the 1024x600 one on the Samsung Galaxy Tab, and the Dell Streak 7 weighs more than the Tab at 16oz vs 13.5oz.
The Streak 7 also has a 1.3MP fixed focus front camera for video chat and a 5MP Auto Focus rear camera with Flash.
Pricing and availability have not yet been announced.
So while the Dell Streak 7 is another option in the tablet market, there's nothing to suggest that it is a game changer.