Samsung Galaxy Tab Review
Techlicious editors independently review products. To help support our mission, we may earn affiliate commissions from links contained on this page.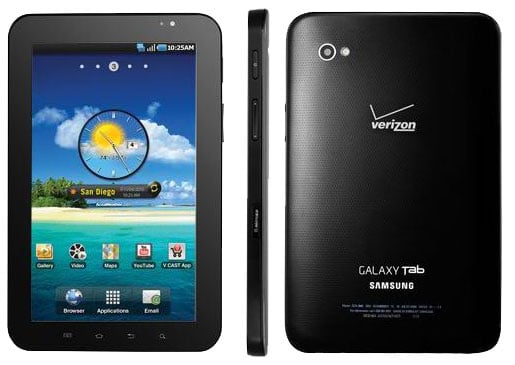 Apple made tablets hot when it introduced the iPad in April this year. Now we see its first real competition—the Samsung Galaxy Tab.
So how does it stack up? When we reviewed the iPad, we identified a few key uses for iPad owners—reading ebooks, playing games, watching videos, web browsing and performing light productivity tasks. And if you look at how the Tab performs these tasks, it does quite well.
The Tab shines as an ebook reader. Its small size feels book-like in your hand than the iPad and reader apps, like Kindle, work just as well.
With support for Flash, the Tab delivers one of the best mobile browsing experiences on a tablet. You can view videos and interact with site navigation built on Flash, which you can't do on an iPad. But video was sometimes choppy, so it's not up to the standards of a laptop.
Playback of movies stored on the Tab works just as well as it does on the iPad. But bigger is better here, so we have to give this one to the iPad.
I'd call the basic productivity apps a draw, with Android's look and feel being so similar to iOS. The only place where the Tab falls down is when it comes to gaming and other 3rd party apps, like Netflix, which are unavailable on Android or have not yet been optimized for the Tab's larger screen.
Physically, the Tab is smaller (7 versus 9.7 inches) and lighter (13.5 versus 24 ounces) than the iPad, making it a much more viable option for carrying on a daily basis. The Tab was clearly designed to be used outside the house. There's no Wi-Fi-only version of the Tab, so unless you want to pay full retail, you'll be stuck with a 2 year contract and a monthly fee of at least $30 per month on Sprint (2GB data), $20 on Verizon (1GB data), $25 on T-Mobile (200MB) or $15 on AT&T (250MB) .
In the end, it comes down to where you'll be using your tablet. If it's primarily at home, the iPad wins. It has a more polished interface and a bigger selection of apps. For mobile users, I'd recommend the Tab. Its portability outweighs the smaller app catalog, which will grow over time.
How it feels in the hand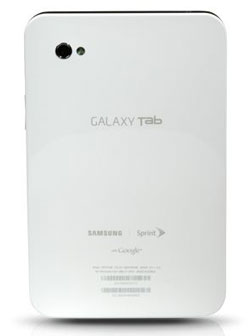 Slightly larger than a paperback book and about the thickness of a cell phone (7.48" x 4.74" x 0.47"), the Samsung Galaxy Tab feels solidly built and sits comfortably in your hand. The AT&T, Verizon and T-Mobile models also have a black textured back, which gives you an extra sense of security. The Sprint version has a smooth white back, but it still doesn't have the slipperiness of the iPad.
At 13.5 ounces, the Tab is easy to hold for extended periods of time for tasks like reading ebooks or playing Angry Birds.
Display and sound
The Samsung Galaxy Tab has a standard 7-inch WSVGA LCD (600 x 1024) display, not the poppy Super AMOLED variety that Samsung's Galaxy S Android phones have. Still, it has a bright, richly-colored picture and serves admirably as a portable video player. The integrated speakers are fine for personal playback, but too quiet for a group. Sound quality is similar to what you'd find on other portable devices.
Apps
Web browsing
The big news with the Galaxy Tab is that it supports Flash, which makes browsing the web a pleasure. It worked fine for us, though other reviewer have noticed speed issues with Flash in their testing. The 7-inch display is a little on the small side, but big enough to be comfortable.
Productivity: Calendar/Contacts/Mail/Memo
Contacts, Calendar, Mail and Memo have been optimized for the Tab's large display. There are two windows of information, similar to what you would find in Outlook. So, for instance, you can see a list of messages in your inbox in the left column while reading the contents of a message in the right column.
Movies and music
Samsung pre-loads Media Hub, a movie and music store that is priced competitively with iTunes. The movies are all optimized for playback on mobile devices and can be played back on up to five devices associated with your account. Unfortunately, Netflix is not yet available for Android—a big hole for a media device like the Tab. And you can't get around it by browsing to the Netflix site; the Tab's operating system isn't supported there, either.
Reading eBooks
There are a number of ebook reader apps available for the Tab, including the Kindle and Barnes & Noble apps. I read books all the time on my phone, so I really appreciated the larger screen size. And at 13.5 ounces, the Tab doesn't cause hand fatigue in the way the iPad does.
Android smartphone apps on the Tab
Most of the apps available for the Galaxy Tab are really cell phone apps that have been enlarged, which is readily apparent in the quality of the graphics. Those that have been optimized look great, and I expect their numbers will grow rapidly.
Camera and video recording
The Samsung Galaxy Tab has a back-facing 3MP camera, a front-facing 1.3MP camera and 480p video recording. There's an LED flash, like the one on cell phones, that can be used for both stills and movies.
Like Samsung cell phones, the images and video shot with the Tab were decent by cell phone standards. Low-light photos were noisy and a little soft, and the same holds true for video.
The front-facing camera was somewhat of a disappointment. When I tried it with Qik, my image was always rotated 90 degrees off—no matter which way I held it. Fring only supports the back camera. Hopefully updates to these apps will correct these issues. Until then, video conferencing was a no-go.
Keyboard and navigation
The large display of the Samsung Galaxy Tab is actually a drawback when using the on-screen keyboard. It's too small for comfortable touch typing and a little too big for Swype, though that worked best for me. Those with larger hands will find thumb typing in portrait mode a viable option.
Navigation is very similar to Android phones, with panels on the home screen that can be customized with various widgets and apps.
The Tab has two physical buttons along the right side: Power and Volume. There are also four dedicated touch-sensitive main navigation buttons—for Menu, Home, Back and Search. Haptic feedback lets you know when you've pressed one.
Storage
The Samsung Galaxy Tab comes with 2GB of onboard memory and a 16GB microSD card (expandable to 32GB), which should be enough for most people.
Battery Life
Battery life for the Samsung Galaxy Tab is rated at up to 13.5 hours, but realistically you'll be lucky to get 7 with Wi-Fi or 3G turned on. And, somewhat surprisingly, Samsung choose to go with both a non-standard charger cable, rather than micro-usb, and did not build in the ability to charge through a computer using USB; it has to be plugged into the wall to charge, which is a major drawback.
Pricing and availability
The Samsung Galaxy Tab is available at AT&T for $649, at Sprint or Wirefly for $599 ($399
with a two-year contract), at Verizon for $599 and at T-Mobile for $599 ($399 with a two-year contract).
Should you buy it?
In the end, it comes down to where you'll be using your tablet. If it's primarily at home, the iPad wins. It has a more polished interface and a bigger selection of apps.
For mobile users, I'd recommend the Galaxy Tab. Its portability outweighs the smaller app catalog, which I know will grow over time. And the Tab offers both a camera and video conferencing (or at least it will when the bugs are worked out), which the iPad does not, both very handy when traveling.
Rating: Recommended
Detailed Specs
Talk and Standby Time: up to 13 hours use, 20 days standby
OS: Android 2.2.1 (Froyo)
Weight: 13.58 ounces (Sprint/Verizon), 13.4 ounces (T-Mobile), 13.23 ounces (AT&T)
Dimensions: 7.48" x 4.74" x 0.47" (Sprint/Verizon/T-Mobile), 7.48" x 4.76" x 0.47"(AT&T)
Display: 7" WSVGA LCD (600 x 1024)
Video: 480p SD video recording
Camera: 3 MP with autofocus and flash
Front-facing camera: 1.3 MP
Processor: 1 GHz Cortex A8 Hummingbird Processor
Memory: 2 GB on-board, 16 GB microSD card included (expandable to 32 GB)
Wi-Fi: 802.11 b/g/n
Wi-Fi Hotspot: AT&T: No, Sprint: Yes, T-Mobile: Yes, Verizon: Yes
Discussion
New Articles on Techlicious