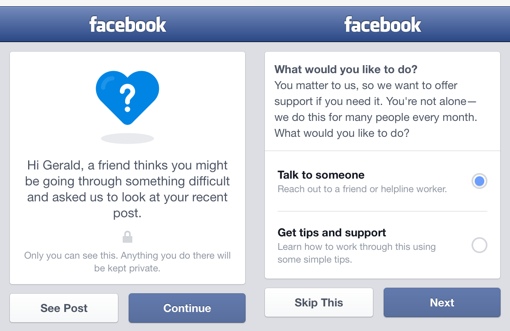 Facebook's newest feature may be one of its most important yet. Yesterday, the company announced the development of new tools to report and provide varying levels of support to those who may be contemplating self-injury or suicide. These tools will be rolling out to Facebook members over the coming months.
When the feature goes live, you'll be able to flag posts from friends on Facebook that contain worrying threats about self-harm or mental distress. Those reports can be sent either to a friend of the friend (to help spur immediate real-world action) or to Facebook itself. Either way, a team of professionals will be on hand to review the reports 24 hours a day, 7 days a week to prioritize the most serious ones and send help those who need it.
If the threat of harm is immediate, Facebook will encourage you, the person making the report, to call emergency services. Facebook will also give you the option to call or message your friend to lend your immediate support, or to talk directly with a trained professional at a suicide hotline.
In any case, Facebook will prompt your friend with information about support and resources the next time they log in to the social network. This includes contact information for the National Suicide Prevention Lifeline, an option to reach out personally to a friend and tips for working through their feelings. The response mechanism was developed in conjunction with mental health organizations like Forefront, Now Matters Now, the National Suicide Prevention Lifeline, Save.org and others.
There's little doubt that Facebook's new tools will be a great help in getting resources to those who need it the most. You can expect to see the new feature rolling out in the U.S. "over the next couple of months," with an improvement in international tools to follow. To learn more, read the full post on the topic by the Facebook Safety team.
[Image credit: Facebook]