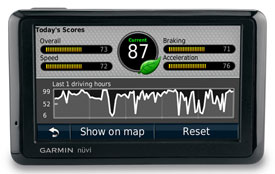 Looking to save a few dollars at the pump? Garmin's navigation systems with ecoRoute software can calculate the most fuel efficient route. And for even more precise results, there's Garmin's new ecoRoute hd, a dongle that attaches to the on-board diagnostics (OBD II) port found in every vehicle, usually beneath the steering wheel column.

The ecoRoute hd wirelessly sends information about the car's performance to ecoRoute software built into one of the company's compatible nüvi portable navigation devices—the 1260, 1370, 1390, 1490 and 1690, plus future models. The data collected enables the nav system to calculate a "less fuel" routing option. And with "driver challenge scores" you can track the fuel efficiency of your speed, acceleration and braking while driving.
Also, the ecoRoute hd solves a common mystery: why the "check engine" light has illuminated. Because it is tied in to the OBD II port, the ecoRoute hd will use the nüvi to display standardized error codes that activate the light, along with explanations, as well as allow the light to be reset. The ecoRoute software is available now as a free download and ecoRoute hd is slated to be available in March, for $149.95.