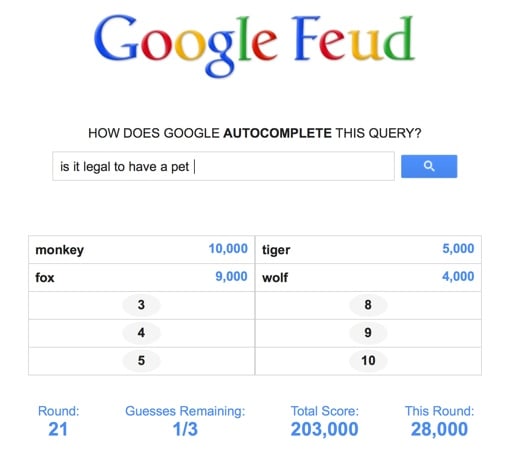 Looking for a fun browser-based game to help pass the time during work? Take a look at Google Feud – it's a free game based on the game show 'Family Feud' that uses Google search autocompletes as its source of survey questions. Because it's played entirely in your browser, there's no download required to play.
Here's how the game works: When you visit, you'll be asked to choose one of four categories: culture, people, names or questions. Once you choose, Google will then provide you half of a search query – for example, "coffee is too…" You'll then be challenged to guess the top autocompletes to that search fragment, one-by-one. Type "hot" and you'll get 8,000 points for uncovering the number three answer; type "cold" and you'll get a strike because it's not a top response. The round ends when you either find all the answers or get your third strike, just like on the popular TV game show. If you choose to play more rounds, the game will keep a running total of your score. (Sadly, there's no multiplayer version.)
The site seems to be run by an automated script based on real search queries, which means you'll occasionally see similar answers on the board. For one question about addiction, both "weed" and "pot" are correct answers (as is "League of Legends"). You'll also need to be careful typing in your answers, because if you spell something wrong, you'll likely get a strike. Those minor quibbles don't really detract from the fun of the game, though.
If you want to check out Google Feud for yourself, visit googlefeud.com. You might also be interested in the free browser-based Smarty Pins, a geography game based on Google Maps. And if you're using Google Chrome, you may also want to play around with the free Build with Chrome, a LEGO simulator you can play in your browser.
[Image credit: Google Feud]