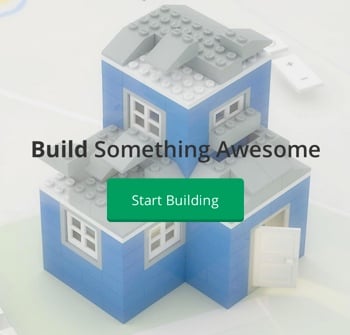 Google and LEGO have teamed up to create a free building block simulator app playable for free from the Chrome web browser.
Google unveiled the project today on its official blog. "We think the creative freedom of LEGO bricks shouldn't be limited to plastic bins—which is the idea behind Build with Chrome, a collaboration between Chrome and the LEGO Group that brought these colorful bricks to the web using WebGL, a 3D graphics technology."
The Build app is easy and intuitive to use. You choose the type of block you want to use, its color and how it should be oriented. Blocks can be stacked on top of each other in any configuration real-world LEGO physics will allow. There are also special pieces like doors and windows – all in LEGO style, of course – to complete your structure. You can sign in with Google+ to save and share your creations and to view other peoples' works of blocky art.
I'm a huge fan of the building blocks and the LEGO video game series, so it should come as no surprise that Build is something I had a blast playing around with. You get a lot of the basic fun and creativity of LEGOs all in this one free, simple web game. Best of all, in this version, there are no tiny plastic pieces to step on in the middle of the night. It's great fun for the whole family – just be careful with Google+ and your privacy.
To give Build a try, visit buildwithchrome.com using the Google Chrome browser.