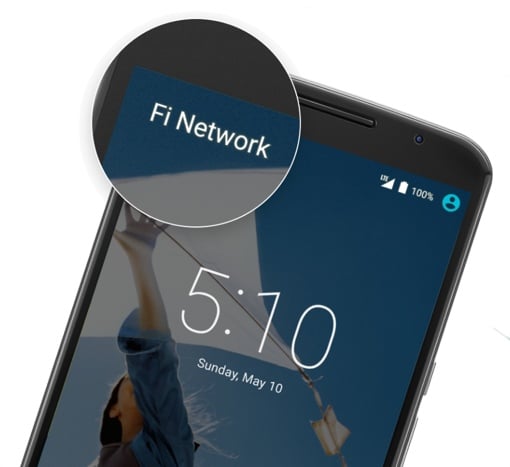 Over the last decade, Google has mastered both the art of developing smartphones and the software those smartphones run. Now, Google wants to provide the cell service for its phones as well. This week, the Internet giant announced the launch of Project Fi, a low-cost wireless service that only charges you for the data you use.
Project Fi is something of a hybrid service. When you're at home, a Project Fi phone will make calls and access the Internet through your home wireless network. When you're on the go, calls seamlessly transition to the Sprint or T-Mobile grid – whichever offers better service and better data speeds where you happen to be. Stop off at a coffee shop (or some other location with a Google-verified, free Wi-Fi hotspot), and Project Fi will switch over to that, keeping you from wasting mobile data. Google handles the encryption for you, so there's no need to worry about falling victim to a malicious public hotspot.
But that's not the only unique feature offered by Project Fi. It's designed such that your phone number exists in the cloud, not just on your phone. That way, you can talk, text and check voicemail on any number of devices, whether you're at home using your laptop or borrowing a friend's phone because you misplaced yours. The only requirement here is that the device support Google Hangouts.
With Google's Project Fi, you only pay for the data you use. Just $20 a month buys you all the basics (unlimited calling, text and international coverage); data will cost you a flat rate of just $10 per GB of data. You'll need to tell Google how much data you want each month and pay for it in advance, but the company will offer you full credit for your unused data. That way, if you pay $30 for a 3 GB plan and only wind up using 0.3 GB of data, Google will reimburse you for the $27 worth of data you don't use. Cooler still, these rates hold true whether you're in the U.S. or traveling abroad. There's no need to swap out SIM cards just because you're going on vacation.
For now, the Google Project Fi service will only work with the company's Nexus 6 phones. If that's not a roadblock for you, check out Project Fi's coverage map to see if you can get a signal in your area. Then head over to the Project Fi signup page and request an invite to the service.
[Image credit: Google]