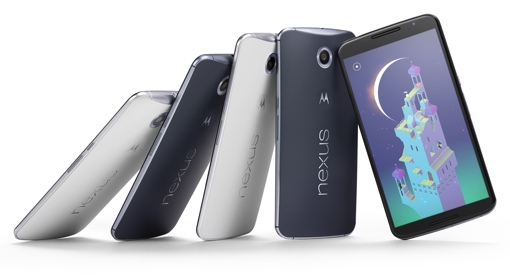 The new Android Lollipop 5.0 operating system isn't the only big news out of Google today: The computing giant has also officially introduced its brand new Nexus 6 and Nexus 9 Android devices. The Nexus 6 is a Motorola-made phone-tablet hybrid ("phablet") with a 5.9-inch screen; the Nexus 9 is an 8.9-inch tablet being manufactured by HTC. Both are expected in stores this November, and both will run Android L out of the box.
Obviously, the big feature of the Nexus 6 is its screen – its absolutely huge. The 1440 x 2560 display (496 pixels per inch) absolutely dwarfs the 5.5-inch Apple iPhone 6 Plus. Its camera is getting a much-needed upgrade to 13 megapixels, while its powerful 2.7GHz Qualcomm Snapdragon 805 quad-core processor will help the device tackle the most demanding of mobile tasks. There's a nice battery upgrade too: The 3,220 mAh battery lasts 24 hours when it's at 100 percent, and can give 6 hours of use on a quick 15 minute charge. The phone will come in midnight blue and white, and your choice of 32GB or 64GB of storage.
The ultrathin Nexus 9 tablet, meanwhile, features a 2048 x 1440 display (281 pixels per inch) in a 4:3 aspect ratio. You'll find an 8 MP camera on the back for taking photos, while a 1.6 MP camera on the front should be sufficient for all your selfies and Skype sessions. Inside, the tab runs on an 2.3 GHz NVIDIA Tegra K1 processor, 2GB of RAM and either 16 or 32GB of storage.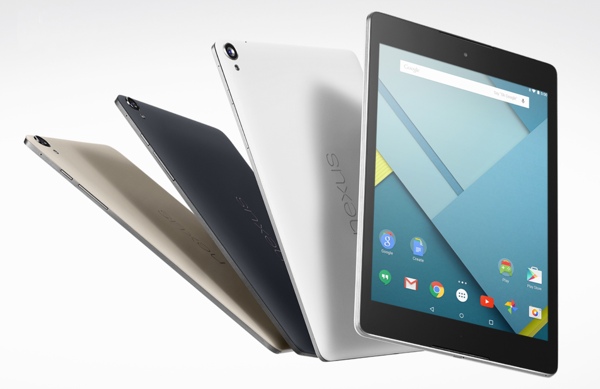 The new Nexus 6 will start at $649 off-contract, which represents a big price hike over last year's value-priced Nexus 5. This is to be expected however – bigger phones are always priced at a premium. The Nexus 9 tab will start at $399 for a 16GB Wi-Fi only model. Expect to pay significantly more for LTE functionality.
Pre-orders for the Nexus 6 Motorola phablet start on October 29; expect it to ship sometime in November. You can learn more about the device by watching the short promotional video below or by visiting Google's Nexus 6 landing page. Pre-orders for the Nexus 9 HTC tab will start on October 17, with a scheduled launch date of November 3. You can learn more about it by visiting Google's official Nexus 9 page.