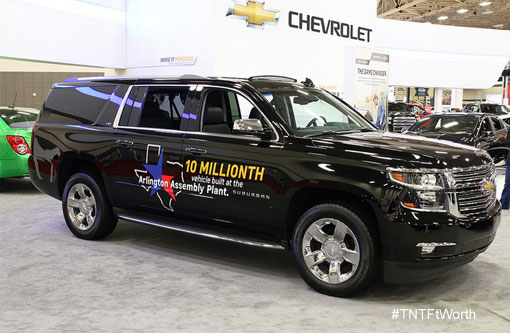 How long does it take to build a total of 10 million cars, trucks, and SUVs? In the case of Arlington Assembly — a GM manufacturing plant near Dallas, which has been running since 1954 — just over 60 years. With such a long history, the plant's manufacturing history is a walk down memory lane for American cars:
1 millionth vehicle: 1965 Pontiac Bonneville
2 millionth vehicle: 1971 Oldsmobile Cutlass
3 millionth vehicle: 1976 Oldsmobile Cutlass Supreme
4 millionth vehicle: 1981 Chevrolet Monte Carlo
5 millionth vehicle: 1985 Monte Carlo SS
6 millionth vehicle: 1993 Buick Roadmaster
7 millionth vehicle: 2002 Cadillac Escalade
8 Millionth vehicle: 2006 Chevrolet Tahoe
9 Millionth vehicle: 2011 Chevrolet Suburban
10 millionth vehicle: 2015 Chevrolet Suburban
And while 10 million vehicles is a big milestone, the Suburban is celebrating its own milestone: this year is the vehicle's 80th anniversary, making the Suburban the longest continually produced vehicle model in the world. Though the original 1935 Suburban (which seated 8 and had a 60 horsepower engine) is a far cry from today's Suburban (which seats 9 with a 355 horsepower engine), the Suburban has always aimed to combine the best features of cars and trucks.
Classic and modern models feature a station wagon-style body on a truck frame with a powerful engine for hauling or towing whatever you might need. Though they were originally produced commercial use, the Suburban has also become a popular family vehicle — and of course this year's models have the latest tech, like OnStar's 4G LTE Wi-Fi hotspot connectivity.
How many of us have memories of family vacations in the Suburban? Considering the vehicle's long lifespan, probably lots.
For a quick trip down memory lane, check out GM's nifty video about the history of the Suburban.
[images: #TNTFtWorth]