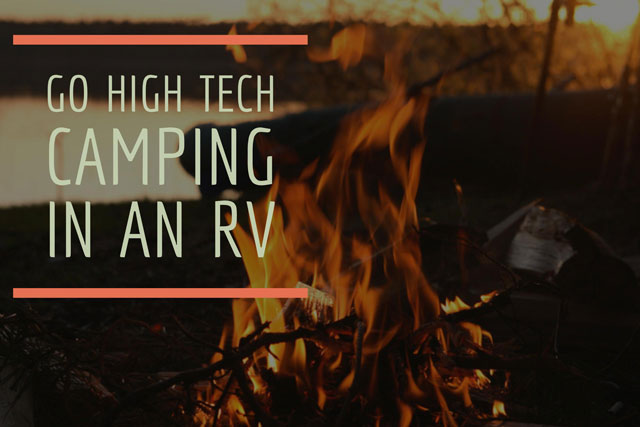 Ah, the great outdoors! Whether it's the majesty of the Grand Canyon or the many wonders of Yellowstone National Park, there's so much to explore. But there's a tiny snag with the plan of packing up the family for a camping trip: you have to keep an eye on your work email, your kids can't cope with a week away from their friends online, and your husband won't miss the latest Game of Thrones.
But why can't there be a compromise? A way to experience the outdoors without losing all the high-tech comforts of home? Enter the modern RV, which aims to give you the best of both worlds. When you think of an RV you might think of cramped spaces and, worst of all, a complete lack of modern technology. But the latest RVs are completely tech-savvy, whether you're on or off the grid.
Modern RVs really are homes on wheels. Even a modestly sized RV will feature comfortable beds, a kitchenette, air conditioning and heating, and a full restroom. This isn't camping: there's no sleeping on the ground or suffering in the heat (or the cold). If you want to go big, you can find RVs with 400 square feet of living space, king-sized beds, washers and dryers, full-sized refrigerators, water purification systems, and even a central vacuum to keep things clean without having to lug an actual vacuum around. Even the smallest teardrop trailers may have slide-out expansions that can make for a practically palatial space (at least in camping terms).
The tech features are all there, too. RVs have the same big-screen HDTVs you have at home (and larger RVs will have several), complete with sound system for a full cinematic experience even when you're in the middle of nowhere. DirecTV and Dish Network both offer RV-friendly packages and satellite dishes, offering hundreds of channels that go where you go. For the less demanding viewer, many campsites offer cable television hookups (free or for a fee) and there's always the option to carry your own video collection Blu-ray, your computer or a hard drive to stream from.
Internet options are there too, though you may not find download speeds as zippy as those at home. Most campsites offer Wi-Fi, but don't expect it to be fast enough for anything more than email and light web browsing. Using your phone as a hot spot is also a good option—as long as you're in an area with cellular service and don't burn through your data cap. T-Mobile can be an especially good choice with its Binge On service which lets you stream video without counting against your monthly data use. And for anyone who needs to stay connected, satellite internet is a reliable (if expensive) option, with dishes that mount to the top of an RV and position themselves for the best signal with the press of a button.
Some RVs make it easy for you to head off the grid without leaving your tech behind. RVs equipped with solar panels can collect enough energy to keep your gadgets charged and your refrigerator running no matter where you are. LED lights in the interior and on exterior awnings have a low power draw to make your electricity go farther. Don't expect your air conditioner to work, however: the high draw of a typical A/C unit will be too much for the average solar panels (and batteries) to cope with. But, still, you have to expect some compromises for going completely off the grid and into the wild!
So what are your RV options? There's a ton of variety, as you'll find with GoRVing.com's Compare RVs tool, with RVs that just offer a small upgrade over the traditional camping experience to RVs that offer all the comforts of home. Here are some examples of what's out there: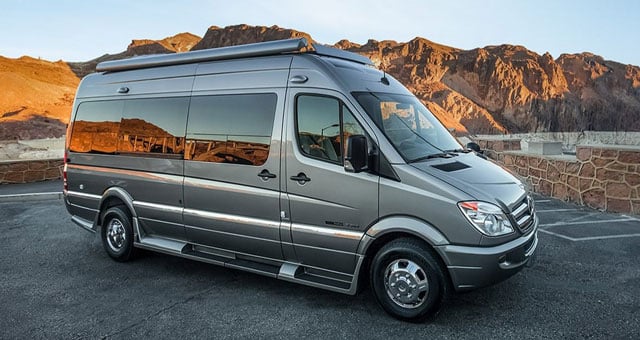 If you prefer to keep things small, a Type B motorhome is sized like a large van, making it nimble to navigate through city streets or backcountry roads. The Roadtrek CS Adventurous is built on a Mercedes-Benz Sprinter Chassis and has radiant heat flooring for winter excursions and a home theater with full 5.1 surround sound—plus enough space to comfortably sleep three.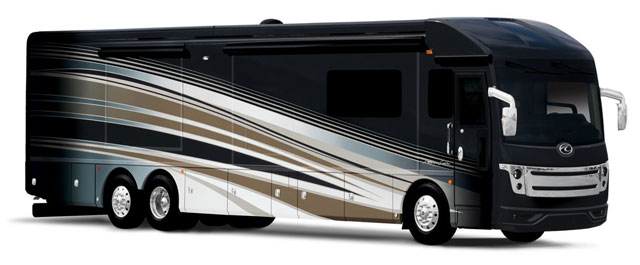 But if you want to go in the other direction, the American Eagle coach has every possible luxury packed into its 44' body. The entertainment system is probably just as good as what you have at home, with a Sony 48" LED HDTV with Bose speakers, a Blu-ray player, and satellite TV. An iPad (included) controls the electronics and a Cradlepoint Wi-Fi router keeps you connected at 3G or 4G speeds (where available). Now that's a high-tech home on wheels.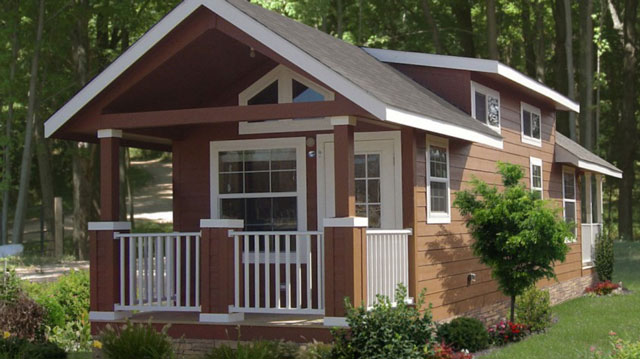 And, keep in mind that while all RVs are mobile, some are really homes that you park for the summer or even year round on a campground. Park models, like the one shown above, feel like a small house, reports our editor, Suzanne Kantra, who spent the weekend in one with her family at the Mystic KOA campgrounds in North Stonington, CT, courtesy KOA and GoRving.com. There was a small electric stove, sink, shower (with hot running water), TV, Wi-Fi—all of the comforts of home.
[Image credits: camp fire on riverbank via Shutterstock, GoRVing.com]