If you're looking to get a proper cinema experience in your living room, it's time to upgrade everything in your entertainment center. Today's 4K TVs have over 8 million pixels, which means they have four times the resolution of your old HDTV set. That higher resolution means extra crisp images that put your old television to shame. And resolution isn't the only improvement in the latest television sets: new TVs can also display brighter, more vibrant colors, and speakers can produce 3D sound that's truly cinema quality.
But just what do you need to buy? If you've tried shopping for a new television lately, you know the marketing jargon can get confusing. So let's start with the basics and run down what common TV terms mean — and why they're important for a great at-home viewing experience.
Buy a 4K UHD TV
4K UHD (Ultra High Definition) TVs have four times the resolution of Full HD sets, which means you have four times the level of detail. And since each pixel is smaller than those on Full HD sets of the same size, you can sit closer to the screen without seeing the lines that separate the pixels (what's called the screen door effect).
So break out your measuring tape to check the distance from your television to your sofa. You'll find that you can (and should) sit a lot closer to 4K UHD set. Here are the guidelines on TV size and viewing distance:
TV Size
Minimum distance
for 4K
Minimum distance
for Full HD
42-inch TV
3.5 feet
7 feet
50-inch TV
4.2 feet
8.3 feet
55-inch TV
4.5 feet
9 feet
65-inch TV
6.4 feet
10.8 feet
Look for HDR and wide color gamut
For the best color quality, you'll want an HDR (high dynamic range) television that supports wide color gamut. But what do these terms mean? HDR TVs offer a higher contrast between the darkest and lightest colors, which makes colors really pop. You'll see more detail in the brightest highlights and darkest shadows, giving images a photorealistic, almost 3D look. But while HDR improves contrast, wide color gamut improves the colors themselves. An ordinary HDTV can display about 17 million colors, but a 4K UDH TV with wide color gamut can display a billion, which more closely replicates what you see in real life.
Spend a little extra for truly immersive sound
George Lucas says that sound and music are 50 percent of the entertainment in a movie, and we couldn't agree more. That means getting an at-home cinema experience means getting a set with great sound — and that usually means buying a separate speaker system or soundbar for better sound quality. That's because today's TVs are so slim, there's not enough room in the TV housing to fit great speakers.
When it comes to sound, Dolby Atmos is the buzzword you're looking for. Dolby Atmos, made by the same company that powers the sound in most movie theaters, offers a 3D sound space in your living room. That means sounds will seem to come from the front, sides, back, and even overhead. Dolby Atmos puts you in the middle of the movie, so you when you're shopping, look for a TV or speakers that support Dolby Atmos. Buying external speakers will cost extra, but they're a must-have for a full at-home theater experience.
Make sure your TV is smart
Everything above ensures you get the picture and the sound you need for the perfect home theater, but modern televisions offer some excellent extras that you won't find at a theater. All major TV brands offer support for Amazon Alexa, Google Assistant, or Samsung Bixby voice assistants, which makes watching as easy speaking up.
And voice controls don't stop with watching TV and movies — these smart TVs plug into your smart home setup, so you can dim the lights, check the baby monitor or see who's at the front door without getting up. Though you'll still have to get up to get your own popcorn, smart home integration means you can relax on the couch and enjoy your movie instead of getting caught up with household distractions.
Be sure to pick a set that supports your favorite voice assistant and smart home devices.
Don't forget the 4K content for your 4K UHD TV
But buying a 4K UHD TV with support for HDR and wide color gamut isn't enough to enjoy all the benefits. Your entire entertainment system has to support 4K. That means you may have to upgrade your Blu-ray player and streaming media player to 4K versions. Even your HDMI cables may need to go, as older cables — seven years old or older — won't support 4K quality.
Once everything in your entertainment center supports 4K UHD and HDR, you need to have 4K content to watch. While you won't find every title available in 4K, there's a growing catalog of Blu-rays, digital downloads, and digital rentals available in 4K resolution, so you'll get the best possible picture quality.
For streaming, Amazon, Netflix and Vudu have some 4K HDR content, though their full streaming catalog doesn't support 4K. An internet connection that's capable of streaming plenty of data — 4K movies are big files — is also crucial. Amazon recommends a 15Mbps connection for 4K, while Netflix recommends a 25Mbps connection for 4K. Most internet services in urban areas offer plenty of speed for 4K streaming, but in rural areas, you may not have a fast enough connection — which means you would need to rely on 4K Blu-rays and digital downloads.
Cut the cord and save money
Even while you shop, you can save. On average, Americans spend $100 per month on cable television — and over the course of a year, that can add up to a new television (or more).
Instead of paying high cable bills, consider cutting the cord. Connecting a simple HDTV antenna to your television can give you access to dozens of free channels, including major broadcast networks like ABC, CBS, Fox, NBC, PBS and more. (Channels will vary by location, but if you check channel signal strength in your area you'll may be pleasantly surprised by how many options you have.) Though the channels will be in HD rather than 4K, that's still good picture quality.
Basic indoor antennas start around $20, which is all you need to watch live television. If you want to time-shift your viewing to watch whenever you please, you'll want to add a DVR to your setup like the ChannelMaster Stream+ Media Player and OTA DVR ($149) to record your shows to watch later. Still, it will only cost a month or two of cable bills to get everything you need for the perfect cord-cutting setup.
Must-have gear for your home theater
Now that you know what to look for, here are our recommendations on what to buy.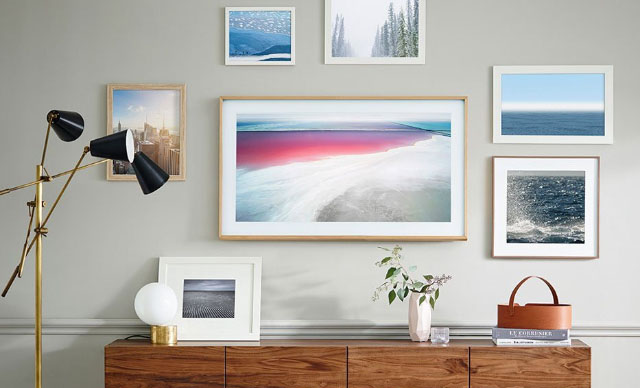 A television that blends into your decor: Samsung The Frame
No matter how slim and stylish, a big-screen TV is a huge presence in any room — but Samsung has a solution to the problem of televisions disrupting your style. The Frame is more than just a flatscreen TV: it's a work of art in itself. As the name implies, it's designed to look like a picture frame, with a single invisible cable connecting it to the rest of your entertainment center. When you aren't watching TV, it will display one of 800 available works of art that you can swap between at any time. No one will know you have a television in the room until you turn it on.
Of course, it isn't enough for a television to look good: it has to have fantastic picture quality, too. It has a 4K UHD display with HDR10+ for sharp images and vibrant colors. It also features Samsung's voice assistant, Bixby, which you can use to control the television and your Samsung SmartThings devices.
Price: 55" The Frame starts at $1,499.99 from Samsung, check price on Amazon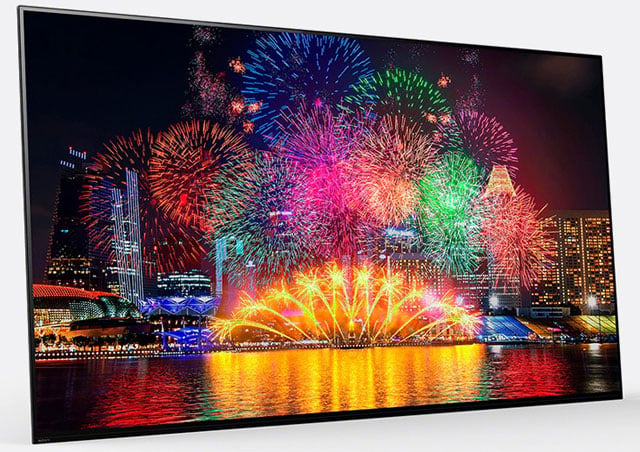 The very best 4K Netflix experience: Sony Master Series 4K A9F OLED TV
Sony's Master Series 4K OLED HDR screens are some of the best OLED TVs you'll find, because they take the brilliant colors of HDR and make them even better with their Picture Processor X1 Ultimate technology. The processor intelligently enhances brightness and color as your shows play, to make every scene pop.
For Netflix viewer, there's another feature of note: Netflix Calibrated Mode, which takes Netflix's 4K streaming content and transforms it into near master quality. Even when you're streaming in 4K, that's quality you won't usually come by — and Sony Master Series TVs do it automatically.
Price: Check price on Amazon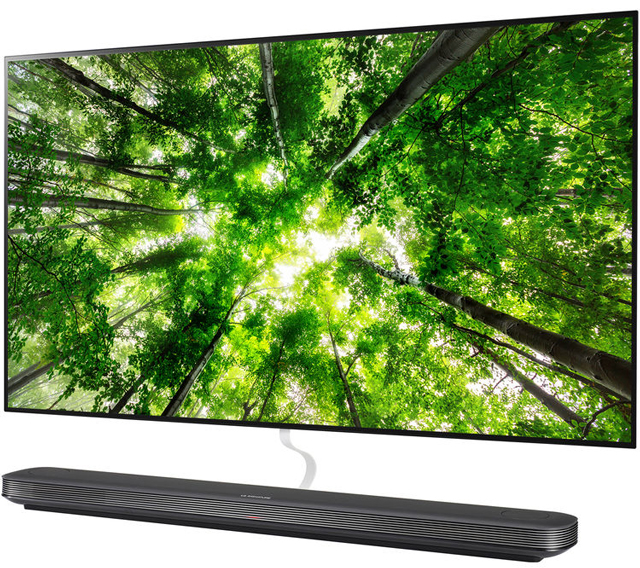 A paper-thin TV with amazing picture quality: LG Signature OLED TV W8
If you're willing to pay for it, LG's Signature OLED W8 4K HDR televisions have everything you could want from a television. The OLED screen offers bright colors and dark blacks, enhanced with support for HDR and wide color gamut for brilliant colors. And while Sony has its Picture Processor X1 Ultimate, LG has its α9 Intelligent Processor, which helps the set show vibrant, true-to-life images in perfect clarity. This sharp screen is ultra thin at just 0.15" deep, and it mounts flush against your wall, so it vanishes into your room more like a piece of wallpaper than a big-screen TV. It's really the best OLED TV you can buy right now.
The sound is no slouch, either. The TV comes with its own soundbar with Dolby Atmos built-in for full cinematic sound. And the system is smart, too. It has Google Assistant built in (and can be controlled with other Google or Alexa devices) and is part of LG's ThinQ ecosystem of smart, AI-powered devices, which can understand natural language requests. The W8 has everything you could want in a new television.
Price: Starts at $6,999.99 at Best Buy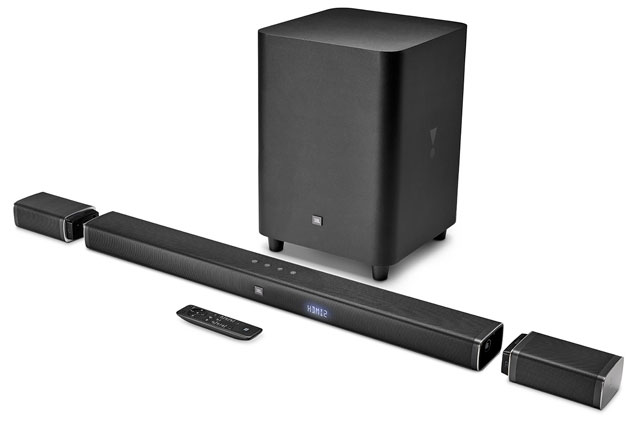 Cinema-quality sound for your home theater: JBL BAR 5.1
Whether you're buying a new television or not, you can upgrade your television set up to cinema-quality sound by adding a soundbar. These slim speakers are an easy addition, as they can sit in front of or be mounted under your television to add big sound to your slender flatscreen.
JBL's Bar series of speakers offer great sound for any price range, but the Bar 5.1 stands above the rest. It comes with a subwoofer plus two rear-channel speakers that dock magnetically on the soundbar when you're watching TV and detach for placement behind you when you want full surround sound. The two surround sound speakers and the subwoofer connect to the JBL Bar 5.1 wirelessly, so they can go anywhere in the room without having to string cables everywhere. And the surround sound speakers don't even need a power cable — they have 10 hours of battery life so they can be placed anywhere in the room for the perfect sound wherever you're sitting. When you aren't watching anything, they attach to the soundbar itself to charge up.
If you're looking for something a little more modestly priced, the Bar Studio skips the extra speakers and subwoofer but still delivers high-quality sound for just $149.95.
Price: JBL Bar 5.1 for $699.95 from JBL, check price on Amazon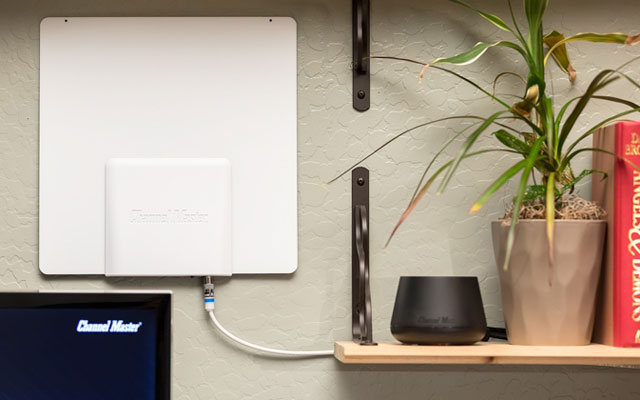 Get free TV with an HDTV antenna: Channel Master SMARTenna+
If you want to get rid of cable TV, the first thing you need is an antenna. But the biggest frustration with antennas is figuring out where to place them to get the best reception for the most channels.
That's why we like Channel Master's SMARTenna+. It's a single antenna with built-in smarts that allow it to act as seven "virtual" antennas by analyzing TV signals and selecting the best reception pattern to pick them up. That gives you more channels — and better picture quality — than you might get with another antenna. All you have to do is stick the SMARTenna+ to a wall inside your home and it does the rest, no effort required.
Price: $69.00 from Channel Master
[Image credit: Samsung, LG, Sony, JBL, Channel Master]