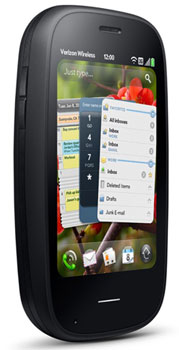 Back in the day of Filofaxes, I fell in love with the first Palm Pilot (1996) and never looked back. Over the years Palm lost its edge and, unfortunately, won't get it back with the Palm Pre 2 for Verizon. It merely pulls even with other smartphones on the hardware side and shows little innovation with the new HP webOS 2.0.
Taking a look at the hardware, the Palm Pre 2 gets a faster 1GHz processor (twice the speed of the Pre) and a better camera, with a 5MP sensor, an LED flash, and a fast shot to shot time of 1 second. There's a new keyboard that has better tactile feedback and the 320 x 480 resolution 3.1-inch display is protected from scratches with Gorilla Glass. In short, nothing that stands out, and that screen is among the smallest in the smartphone market.
The new HP webOS 2.0 has two interesting new features—Just Type and Stacks. The Stacks feature literally keeps your applications and data organized into, well, stacks. So if you're reading your email, your email box window, the individual email window and the web page window you opened when you clicked on a link in your email are all stacked in a fan. Navigating through the fanned cards is easier than Android or iOS, which require you to backtrack one screen at a time.
Just Type looks like a search box, but it's much more than that. Yes, it will search Google and you can set it up to search other sites and even apps on your Palm Pre 2. But that's not all. It also serves as a way to start typing an email, texting or doing just about anything on your phone, without having to go into the individual application first.
Listen to Tim Pettit of HP Palm as he walks you through these features in the video below.
Launch date and pricing have not been released.