When we saw a press release the other day from a company called iCall claiming that its app would allow free calls from your iPhone using either its 3G or WiFi connection, we had to check it out. If iCall worked as it claimed, you would be able to avoid using your monthly minutes for most domestic calls—unfortunately, it didn't.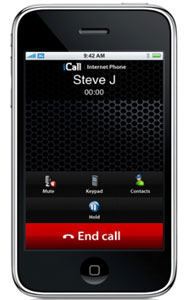 iCall is one of many VoIP (Voice over Internet Protocol) providers—Skype and Vonage are probably the two best known. Previously, all VoIP calls over the iPhone could only use a WiFi connection. This was a limitation put in place by Apple/AT&T to prevent overloading the 3G data network (and, likely, to keep cell phone bills up). So iCall's announcement that you could now use its app over 3G - allowing you to get VoIP almost anywhere - was very interesting.
To get the iCall service for "free" requires you to listen to ads when placing calls. This is not so onerous, considering that you're getting free calls. And, in our experience, we didn't actually get any ads. So no complaints here. A more full-featured, ad-free version will run you $9.95 per month.
Now the reality check
We tested the iCall service over both 3G and WiFi and found call quality and reliability to be lacking, to say the least. Half the time, the calls simply would not connect. When we were fortunate (or unfortunate) enough to get a connection, there were significant voice delays and constant choppiness. And every call was dropped after about 30 seconds.
If these issues only occurred when using 3G, we could chalk it up to limitations of AT&T's network. But iCall was just as bad using our WiFi connection, where AT&T is completely out of the picture.
The result is a free app that's not worth the price.