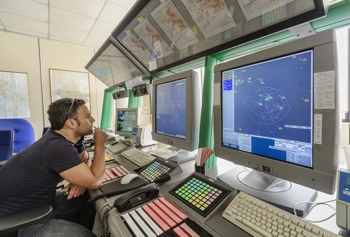 There are a lot of difficult questions still surrounding the mysterious disappearance of Malaysia Airlines Flight 370, even two months later. But as we still struggle to make sense of what happened, one of the most important questions moving forward is this: How can we make sure that a commercial airliner never disappears from the map again?
Commercial aviation satellite company Inmarsat may just have the answer. According to the BBC, the U.K.-based company is launching a free GPS service that provides near-continuous tracking data for all passenger airline flights worldwide.

"Our equipment is on 90% of the world's wide-body jets already. This is an immediate fix for the industry at no cost to the industry," said Inmarsat senior vice-president Chris McLaughlin in an interview with BBC News.
Investigators relied heavily on Inmarsat data to narrow the search area for the missing Malaysia Airlines plane, which made hourly attempts to connect to a satellite network. The new, more robust tracking system will instead ping planes every 15 minutes, collecting and transmitting data about each plane's heading, speed and altitude. Better tracking won't guarantee against future tragedy, but it will help aviation officials with future rescue and recovery efforts.
For more on Inmarsat's new offering, check out BBC News.
[Air Traffic Controller via Shutterstock]