There's a good chance you have a smart speaker somewhere in your home… but what about a smart display? If you've used a smart speaker, you've experienced those times when it rattles off a response but you don't hear all of the details. Sometimes it's better to see the answers as well as hear them when you ask for information. A smart display has a tablet-sized screen that lets you see lists, pictures, and even video solutions to your queries. Powered by Google Assistant, Lenovo's Smart Display, aims to be the best digital assistant out there — and it was one of Top Picks for CES 2018.
The Smart Display is available in 8- or 10-inch touchscreen models. Its pleasantly geometric design has a triangular base that sits sturdily in both portrait and landscape orientations. This hands-free helper is an ideal addition to just about any room of your home, because it can assist with almost anything, from running down your schedule to finding recipes for dinner, to displaying information for a school report. When not in use, you can set it to be a digital picture frame as it displays your pictures from Google photos. It also has video call capabilities for a hands-free chat.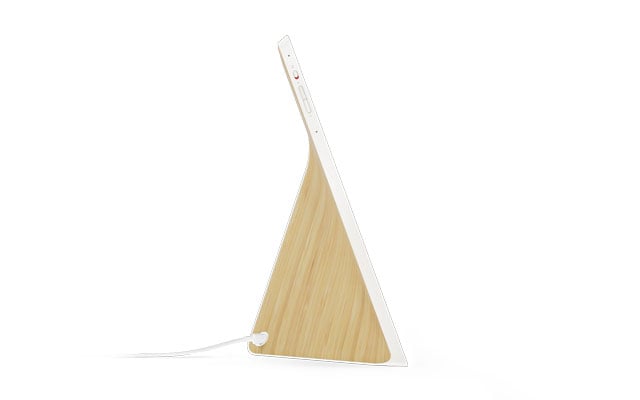 Starting your day gets easier with the Lenovo Smart Display. Unlike using a standard smartphone or tablet interface, the Lenovo Smart Display is tailored to providing you the information that's most relevant to you exactly when you need it. There are no apps to download; everything is right on the screen. Rather than opening your calendar, weather, traffic, and reminders, you can start your day by saying "hey Google" and it will walk you through your morning schedule, displaying calendar events, to-do items, traffic information for your commute, a rundown of the latest news and anything else you might want to know. It's an undemanding way to get ready for the day. You don't have to think about using your Smart Display. You just use it.
Because the Smart Display runs Google Assistant, it can do a lot more. You can look up recipes for dinner, collated from around the web. If you don't know how to prepare something, you can get step by step directions read to you or a quick query will pull up a YouTube video showing you what to do. No matter what you want, there's a good chance Google Assistant — and the Lenovo Smart Display — can help you out.
Of course, as a Google Assistant, the Smart Display can control your smart home devices, including the ability to check in on your baby monitor and other security cameras. Like a smart speaker, you can also listen to music on its powerful 10-watt full-range speaker.
Both Smart Displays will be available starting this summer. The 8-inch model costs $199 and the 10-inch model will cost $249.
[image credit: Lenovo]