The social shopping start-up Luvocracy answers the question, "What if you could earn money by sharing your finds on the web?" The interesting thing about the result is that the "you" in question isn't just retailers or Luvocracy, but the actual users of the website.
Pinterest Meets Amazon
Luvocracy is set up almost identically to Pinterest: you choose (pin) items that you want to add to collections (boards). But in addition to just the picture and name of the item, you also provide a link to where it can be bought.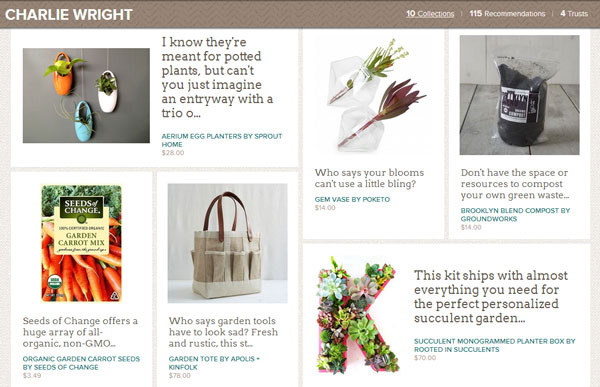 Collections can be made up of anything, not just traditional categories like "women's fashion;" what you post and how you organize it are entirely up to you. Want to post a picture you like? Link to the original artist and give them a chance to earn royalties if the image takes off. Cool, existing collections range from Jeanne Chan's cute and quirky kitchen items to Charlie Wright's gardening collection that features not just pottery and tools, but also seeds and compost. Any interest you have is compatible with Luvocracy.
Luvocracy even has a funky browser plugin, or bookmarklet, that lets you pin things on the go. Save a picture of a purse you're saving up for so that you can easily buy it when the time comes–and so that anyone who shares your taste can grab it as well.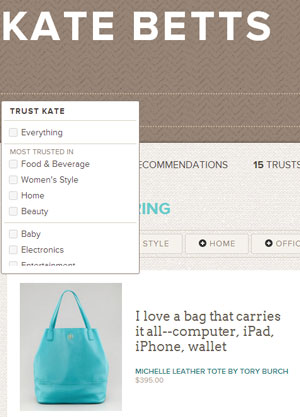 That's the other, social aspect of Luvocracy: find people–friends, family, fashion bloggers, designers–who share your like and dislikes or whose personal style you like and browse their collections for stuff you may not have found on your own. If you really like their pins, you can tell Luvocracy you "trust" them, and begin to get recommendations from the site for other people and things you may like based on whom you trust.
There's Stuff in It for You
On Luvocracy, it's not just retailers who benefit from the shopping setup–users do as well. Rewards come in the form of money off future purchases or just straight royalties you can receive in check form.
There are two ways to earn rewards: referrals and purchases. When you refer someone who becomes an active user, you will earn 2% of all their purchases. However, this perk will only last for the first year of your membership. Once you have been a member of the site for over a year, you can no longer earn money from referrals' purchases.
The other way of earning rewards is permanent. Every time someone buys something you have recommended by pinning it to a collection, you earn 2% of that purchase. This earning potential follows you through re-pins as well. This means that if you post something, and then another user who likes it reposts your original suggestion, you still earn if anyone buys the item from that second user. However, the further down the recommendation chain you are, the less you get. For every degree removed you are from the person who generates the sale, your royalty is halved.
If you're already big elsewhere on the internet–say, you run a fashion blog or have a Pinterest with significant amount of followers–you may qualify for the Tastemaker program. Tastemakers can earn up to 10% on people's purchases.
Signing Up
Right now, the Luvocracy is technically invite-only, but if you want to get in on the action you can simply request an invitation from the home screen of the web site. Their response time is pretty fast, so if this sounds like something for you, head on over and get started.