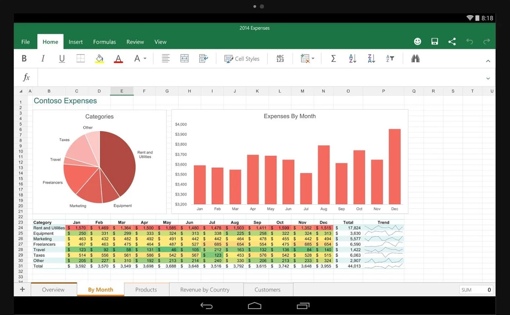 Big news out of Microsoft: On Tuesday, the company announced that it was drawing a line between professional use and personal use of its Office software suite. As a result, the company has decided to offer its Microsoft Office product as a freemium product on any device with a screen under 10.1 inches.
"Based on our research, we are classifying anything with a screen size of 10.1 inches or less as a true mobile device: You're probably using it on the go, when it's not practical to use a larger computing device such as a PC or a Mac," Microsoft Corporate Vice President Kirk Koenigsbauer writes on Office Blogs. "You probably aren't using a mouse or a keyboard, instead navigating via touch interface. It's probably not a 'pro' category tablet that is used for design or presentations. On these devices, the core editing and viewing experience is free, until you get to those premium, subscription features."
It's no secret that Microsoft, a company well accustomed to the traditional desktop market, has struggled to find its footing in an increasingly mobile world. It's been charging too much for its operating systems and software given that Google now makes alternatives available for free. It's not realistic to expect people to pay to access documents on their mobile phones and personal tablets. But at the same time, Microsoft is walking a tight line – if it makes Office free across the board, it will lose a ton of revenue from its business customers who are accustom to paying. Keeping Office as a premium product for large-screen tablets that often function like laptops, like Microsoft's own Surface, is a happy medium.
Note that this news simply means that the basic editing features of Office apps like Word, Excel and Powerpoint will be free on most mobile devices. More advanced editing features, like the creation of word art and the ability to track changes, will continue to be premium features accessible only to Office 365 subscribers. The price of Office 365 Personal is $6.99 per month, or $69.99 per year.
You can read more about the future of Microsoft Office by reading the post over at the official Office Blog. The free Microsoft Office apps, meanwhile, are available on both the Apple App Store for iOS and on Google Play for Android.
[Image credit: Microsoft]