Along with the Pixel 4 and 4XL smartphones, Google also unveiled Nest offerings with a focus on security. At the core is a revamped Nest Aware security service, which makes whole-home DIY security systems an affordable option.
Google is adding audio monitoring to its Nest Aware video security monitoring service next year to let you know if something is amiss at home. So you'll be able to use one of the new Nest Mini smart speakers to listen for an alarm from any smoke alarm you own, not only Nest's, and send you an alert when it does. This alarm listening/alert function will also be available on the 7-inch Nest Hub ($129) smart digital photo frame, the new 10-inch Nest Hub Max ($229) and Nest WiFi whole home WiFi system (starting at $169) as part of the Nest Aware whole home security subscription package.
When it becomes available early next year, the new Nest Aware plans will replace the current per-camera $5-$30/month Nest Aware recording fees of the company's Nest Cam Wi-Fi security cameras with flat $6 and $12 month plans for all the cameras you own at your location, along with the alarm listening/alert feature.
For $6/month, all sound- or motion-detected events from all your Nest Cams will be recorded and stored in the cloud for 30 days. For $12/month, all your cameras will record continually 24/7 with footage stored for 10 days, and will store event footage for 60 days.
If you have a Nest Cam with a recording plan, Google will let you switch to a new plan or keep your current plan, which would be cheaper if you only have only a single Nest Cam camera.
Both new plans also include Mini and Hub alarm listening/alerts. Initially only able to hear smoke alarms, the technology allows for other suspicious noises to be discerned and reacted to, such as breaking glass or barking dogs. The company says it plans to add additional noise detection/alert capabilities sometime in the future.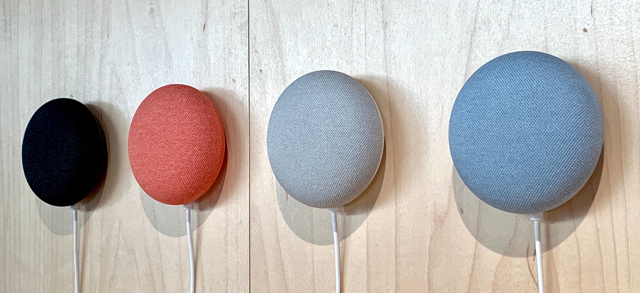 The Nest Mini is essentially a re-branded Google Home Mini. Aesthetically identical to its predecessor (with the addition of a new "sky" grayish blue cover), the new Nest Mini includes with a couple of upgrades such as direct Wi-Fi connectivity to smart home devices to reduce the lag time between voiced command and result, some gesture controls, ability to create stereo with two speakers, and wall mounting – actually, a rear nail/screw hanging hole.
Pre-order the Nest Mini now on Google for $49, available October 22.
[Image credit: Google, Stewart Wolpin/Techlicious]