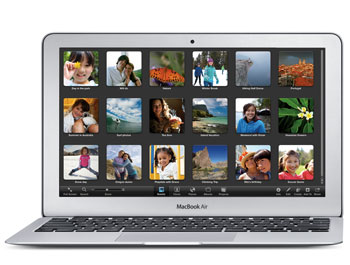 Apple launched it's new version of the MacBook Air notebook line with 11-inch and 13-inch models. Both versions share a super-slim design (only 0.68 inches at its thickest point and an amazing 0.11 at its thinnest) and weights (2.3 lbs. for the 11-inch and 2.9 lbs for the 13-inch) that are competitive even against netbooks.
But if you think the MacBook Air is all about beauty and not brains, you'd be wrong. Both models feature Intel Core 2 Duo processors, 2GB of RAM (upgradeable to 4GB for a reasonable $100) and rely on speedy flash drives in place of a traditional hard drive. The processors aren't the fastest, but should be more than adequate for most owners. Also on-board is a dedicated NVIDIA GeForce 320M graphics card that will easily drive graphics heavy applications, including games.
Those flash drives offer some additional benefits beyond speed. Because flash storage doesn't have any moving parts, it tends to be more reliable than traditional hard drives, especially in a travel computer that tends to get banged around. And the flash drives give the MacBook Air instant-on capabilities after placing it in suspend mode (I'm drooling over this one as I think of the 3 minutes 30 seconds it now takes my PC to boot up), and it can stay in standby mode for up to 30 days running just off the battery.
Apple also took advantage of the extra space provided from using flash storage to increase battery size. Claimed battery life is up to 5 hours on the 11-inch MacBook Air and 7 hours for the 13-inch model. One drawback, though, is that flash drives are very small compared to traditional drives. The entry level 11-inch model comes with a 64GB drive and even the high-end 13-inch model has only 256GB of storage.
Screen resolution is very good for their size. The 11-inch model offers 1,366 by 768 pixels and the 13-inch model 1,440 by 900 pixels—both high enough to watch movies in HD.
Other goodies on the MacBook Air include a multi-touch trackpad, a FaceTime camera (which I assume would work just as well with Skype, too), DisplayPort adapter and Wireless-n networking.
What's always been missing on the AirBook is an optical drive, which is becoming less and less necessary as more software and content can be downloaded from the Internet, and built-in 3G/4G broadband. And with no built-in Ethernet port, travelers might want to purchase the $29 Ethernet Adapter.
Pricing starts at $999 for the 11-inch model and $1,299 for the 13-inch. Not too bad given the exceptional form factor and solid performance specs.