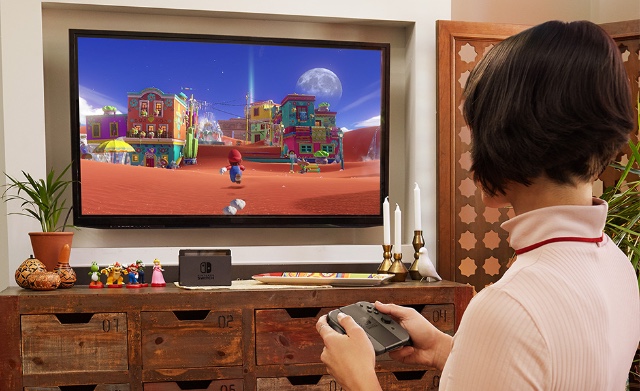 The new Nintendo Switch console will be making its way into your living room in just a few short months. Due out on March 3rd, you can pre-order the Switch today from Best Buy, GameStop and Target. At $299.99, it's priced well under the PlayStation 4 or Xbox One, but like most Nintendo consoles, the Switch isn't trying to be just another Xbox. Instead, the Switch blurs the line between home and mobile gaming, with a single device that can either attach to your television or be used as a handheld gaming device on the go.
It's not quite like any console you've seen before
What is the Nintendo Switch?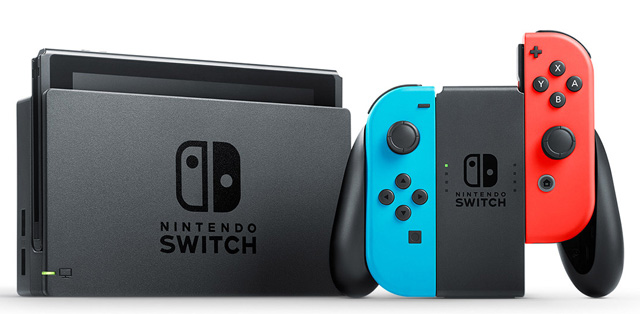 The heart of the Switch is a simple, tablet-like touchscreen (which is 720p, but can display at 1080p on your television). You can tuck it into a dock that plugs it into your television for big-screen gaming or you can pull it out and snap controllers — Joy-Con — to either side to use it as a mobile gaming device. (It will run from 2.5 to 6 hours on a charge.) While you're on the go, you can prop the Switch up with a kickstand and then disconnect the Joy-Con from either side to use them as separate controllers for multiplayer games wherever you go. (If you're at home, though, the Joy-Con snap together to make a more standard controller or you can buy the $70 Switch Pro Controller which looks more like your standard Xbox or PlayStation controller.)
We're used to having a single controller to play games with, but the Joy-Con are two pieces that can be used as one controller or two controllers. Each Joy-Con has an analog stick and five buttons — if you snap them together using the Joy-Con Grip (or snap them to either side of the Switch itself), that's just what you'd get from a traditional controller. But if you take them apart, each Joy-Con has two more buttons hidden along the edge which work as shoulder buttons, making them fully functional stand-alone controllers. It's an unusual design, but certainly a workable one.
The Joy-Con are also motion-sensitive, and, like the Wii Remote, have a wrist strap so you don't accidentally hurl them into your television. This makes motion gaming a hallmark of the Switch — and, again, unlike the PlayStation or Xbox, motion gaming is available with the Switch right out of the box with no extra peripherals. The controllers also have an advanced vibration system called HD Rumble, an NFC reader for using Nintendo's Amiibo figures and an IR sensor that can sense motion in front of the controller. It's the most feature-packed controller we've seen, but how useful those features are will depend on how games take advantage of them. With only a couple of launch titles, we'll have to wait and see how this new controller plays out.
It's all about multiplayer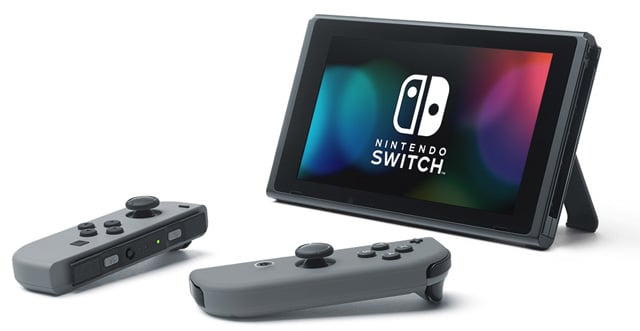 Those two controllers give the Switch an edge when it comes to in-person multiplayer, since both Sony and Microsoft ship their consoles with a single controller. Much of the gameplay Nintendo showed us was about playing motion games with friends (like the new 1, 2, Switch game) using both Joy-Con or linking together multiple Switches (up to eight) for large-scale multiplayer matches.
However, there's also a new online multiplayer service, which will let you chat online, invite friends to play and even set game appointments. For the most part, that sounds like the subscription services used by the other major consoles — and like those services, Nintendo's online multiplayer will have a fee starting in fall 2017, though it will be free before then. There's no price announced yet, but competing services run between $50 and $60 a year, and it seems likely that Nintendo's plan will be in the same range.
What can it play?

Right now, the lineup of launch titles only includes two games, one of which is the much-anticipated Legend of Zelda: Breath of the Wild. While Zelda fans will want to grab that one right away, the rest of the lineup isn't as impressive. Here are best games we've seen for the system so far:
1, 2, Switch (March 3): A multiplayer motion game that includes activities like table tennis and shootouts.
Mario Kart 8 Deluxe (April 28): This update to the Wii U's Mario Kart 8 is mostly the same Mario Kart we know and love, but adds a few new characters and vehicles.
Arms (spring): A multiplayer boxing-style game in which each player has extendable arms to attack at range.
Splatoon 2 (summer): A sequel to the Wii U's tremendously popular squid paintball shooter, the update adds new weapons and battle stages.
Elder Scrolls V: Skyrim (fall): This looks to be the same updated version of the massive, open-world RPG Skyrim that was recently released for PlayStation and Xbox — but marks the first time you'll be able to take Skyrim with you on the go.
Super Mario Odyssey (holidays 2017): An sandbox-style Mario game that takes you to a variety of settings as you hunt down Bowser and Princess Peach.
FIFA: There's no release date yet, but EA Sports is bringing its soccer franchise to Nintendo.
Minecraft: Who doesn't love Minecraft? This fan favorite will be making its way to the Switch, though we don't yet know when.
Project Octopath Traveler: A new title from Square Enix that we know little about... except that it's coming out eventually.Games run about $60 each, though some smaller titles come with smaller price tags. Nintendo has a full list of announced Switch games, though only Zelda and 1, 2, Switch will be out for release day. But for fans of Japanese game imports, good news: there will be no region-locking for games on the Switch, so you can play games even if they aren't released locally.
If you want to snag a Switch on launch date, your best bet is to pre-order now: this new console is sure to be in high demand.
[Image credit: Nintendo]