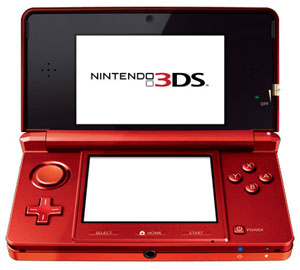 A warning note on Nintendo's Japanese web site regarding their upcoming three-dimensional 3DS handheld game system has caused some media hysteria in a slow news week. The company says that looking at the 3D images for long periods can damage visual development in children under 6. It also warns all users to take a break every 30 minutes when playing 3D games.
Anyone who's played the Nintendo Wii console knows that the company's legal staff is aggressively cautious: if you don't put the !@#$% controller strap on your wrist before playing, you're likely to kill or maim everyone you hold dear. And the length-of-time limitation is nothing new. In fact, this is actually Nintendo's second attempt at a 3D gaming system, and the standalone Virtual Boy (unveiled to widespread disinterest in 1995) carried the same warning.
One more oddity about the current hullabaloo: Nintendo president Reggie Fils-Aime already talked about this recommended limitation when the product launched, back in June at E3, though he quoted a 7-year-old figure rather than 6.
It's reasonable to assume that a child would have to spend an awful lot of time staring at a 3D screen before being developmentally distressed, but it's easy enough to err on the side of caution and keep the Nintendo 3DS out of little kids' peanut-butter-smeared hands. A more pressing concern, though, could be the 3D TV that may lurk in your living room, which could be used for extended periods by little ones re-watching their favorites over and over. There's an interesting article outlining research on the subject at Audioholics, which comes to this conclusion: children under 7 are at risk, period.