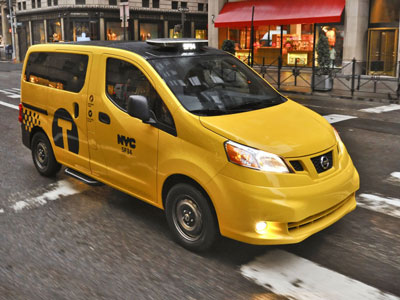 If there's one icon and experience that best represents NYC, a taxi cab would likely be at the top of the list. Whether you live in NYC or are just visiting, you can't escape the sea of 13,000 yellow cabs that make their way up and down the avenues of Manhattan every day. While an integral part of the NYC lifestyle, a cab ride has usually left much to be desired: the headache-inducing jostling, sudden stops, and an often overpowering stench are just a few of the top complaints.
New York City is trying to improve the cab ride experience, however. Earlier this week New York Mayor Michael Bloomberg was on hand to unveil the "Taxi of Tomorrow." The new Nissan NV200 is a mini-van designed to offer the creature comforts you wouldn't normally associate with taxi cabs.
The Nissan NV200 taxi is set to hit the streets in fall 2013 and be phased in over the next 10 years. They'll come equipped with several new features:
phone charging outlet and two USB ports (to power up while you're stuck in NY cross-town traffic)
full-length moonroof to admire New York's magnificent skyscrapers
more legroom
overhead lights
odor-neutralizing antimicrobial upholstery - which makes you wonder, what are you sitting in today? Ick.
The new taxis will comfortably hold four passengers and their luggage, and offer individual climate control. The vehicle is built with sliding doors and retractable running boards to assist passengers with stepping into the vehicle. The NV200 is addressing safety concerns with a back-up camera for drivers to see behind the vehicle, and has even tweaked the horn to sound less annoying and stressful.
The new NV200 taxi is on display at the 2012 New York International Auto Show April 6th – 15th.