Panasonic's Lumix DMC-GH2 digital SLR is a sophisticated digital SLR with HD video capability, yet is easier to use than many point-and-shoot cameras. You can literally touch the person or object you want as your subject on the Lumix GH2's 3-inch touchscreen, and the camera takes over, automatically making any necessary adjustments to focus and exposure before taking the shot.
So now the same camera that delivers full manual control to the photo enthusiast can be handed off with confidence to a complete novice.
As a camera, the Lumix GH2 takes 16MP shots at a burst rate of 5 frames per second and can focus in about 0.1 second. When I tried it out, the lag between my intent and the camera's ability to focus was almost imperceptible, which would be a huge bonus for fleeting moments like baby's first smiles or any fast-action shots. Panasonic also claims lower image noise, which should help in low-light situations—something I wasn't able to test in my brief hands-on.
The Lumix GH2 is also a capable camcorder, shooting at 1080p Full HD with stereo sound. Advanced features include touch auto focus, slow-motion and high-speed video modes and the ability to take 14MP stills while simultaneous recording video.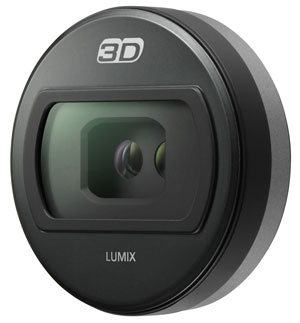 If that weren't enough, Panasonic will have a 3D lens (12.5mm f12, $250) with two sets of elements—one for each eye—that you can attach for taking 3D photos (not video). When you're done taking 3D photos, you can pop the SD card out of the camera and put it into a 3DTV for playback. The lens will also work with the Panasonic Lumix G2 when a firmware update becomes available for the camera later this year.
The Panasonic Lumix GH2 will be available in early December in three different kit options: body only ($900); body with 14-42mm f3.5-6.5 lens ($1,000); and body with 14-140mm f4.0-5.8 hybrid lens optimized for video as well as stills ($1,500).