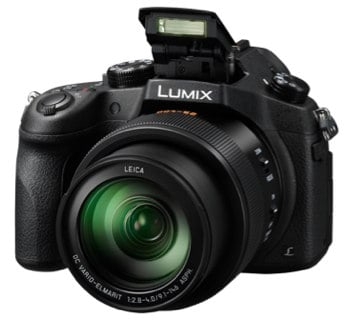 Bridge cameras—shooters that fill the gap between low-cost point-and-shoots and more expensive mirrorless ILCs and DSLRs—are growing in popularity and sophistication. They blend the best aspects of cameras from other categories, such as compact bodies, long zoom lenses, and high-end sensors, into easy to use all-in-one cameras.
We saw several interesting ones at CES this year, though a new one from Panasonic looks even more promising than some of those models.
The Lumix DMC-FZ1000 has a 1-inch 20-megapixel image sensor (larger than almost every bridge camera out there), a fixed Leica 25-400mm f/2.8-4 lens with a 16x zoom, and the ability to record 4K video at 30fps. It's closest competitor, the Sony Cyber-shot RX10, costs about $1,300 and doesn't do 4K; the FZ1000 will retail for around $900 when it hits the market in late July.
4K video recording is where it shines
The big selling point here is the 4K video recording ability. Panasonic claims that this is the first compact digital camera with this capability (other 4K video recorders for consumers are camcorders and more than twice as expensive).
If you have a 4K television this feature makes it possible to film home movies you can watch in the native resolution. Budding videographers or parents wanting to capture every important moment, game win, or school play in the best possible quality will appreciate this feature. And though streaming 4K content is in an early stage right now, it won't be too long before 4K YouTube videos are common enough.
The FZ1000 records 4K video at 30fps in MP4 format. If you want 60fps or the option to record in AVCHD progressive, you'll have to "settle" for 1080p resolution.
Making good videos isn't only about the resolution. You need the ability to zoom in tight and not have the image get super blurry when you do. The 16x zoom lens has a five step speed control that Panasonic says will make zooming smooth. Plus optical image stabilization that keeps every breath or hand movement from ruining the shot. This goes for still as well. A speedy shutter plus quick auto focus plus a 0.66 second start up time adds up to the ability to capture almost any moment before it passes.
The 3-inch OLED live view screen on the back rotates 180 degrees to the side and tilts 270 degrees up and down so there are few angles at which you won't be able to easily frame a shot. There's also an electronic viewfinder with 35mm camera equivalent magnification and 100% field of view.
Great pictures for professionals and amateurs
While a camera like this has high appeal for amateur photographers and professionals who want a second camera that's less heavy yet still powerful, it's also good for people who want great pictures but rarely leave the Auto and Scene settings. The large 1-inch, 20.1 megapixel sensor is meant to reduce noise, even at an ISO as high as 12800. It shoots in JPEG and RAW. The FZ1000's smart Auto, creative controls, and photo styles/filters can help you create beautiful, artistic shots without needing to take a class.
You won't have to wait to connect to a computer to get the pictures from the camera and to the Internet. Wi-Fi connectivity and easy one-touch connection via NFC make it easy to transfer images to a smartphone or tablet—either in batches or while you're shooting—for sharing on social networks or backing up in your favorite cloud service.
At $900 the Panasonic Lumix DMC-FZ1000 is about the same price as a high-end mirrorless ILC or a budget DSLR. That's steep for a fixed-lens camera, but thanks to the versatility of the lens (long zoom usually requires a switch) and the power of the sensor and processor inside, you're getting almost all of the benefits of an interchangeable lens camera in this price range. Not having to carry an extra zoom lens or have to switch it out is a big deal, especially if you're traveling. And the size, while not small, is more compact than DSLRs. It will be interesting to see how well this performs against the Sony RX10.