The Best Cloud Storage Services
Techlicious editors independently review products. To help support our mission, we may earn affiliate commissions from links contained on this page.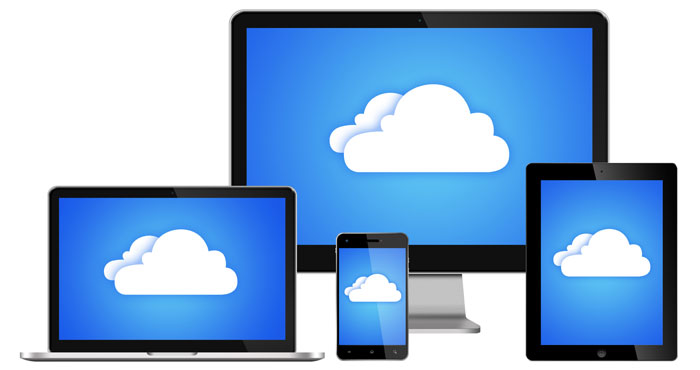 The massive file size of photos taken by today's smartphones rapidly depletes most device and backup storage, making pictures one of the most common things people want to save online.
But there are plenty of reasons to look into cloud storage for other files too. Cloud storage provides you with reliable backup in case anything happens to your hard drive. It allows friends and colleagues to edit shared documents. It makes it easier to share very large files like HD video that might not make it through email.
Not all cloud platforms are equal. We looked not only for the best all-around cloud storage services, but we identified which services best suit which needs. We searched for the services that offer the most free storage. We looked for services that concentrate on collaborative features for remote workforces that need robust file sharing. We looked for the best cloud storage services for photos, music and video, and we looked for the best services for storing and sharing documents.
Here are our top picks for cloud storage platforms.
Best all-round cloud storage
Box.com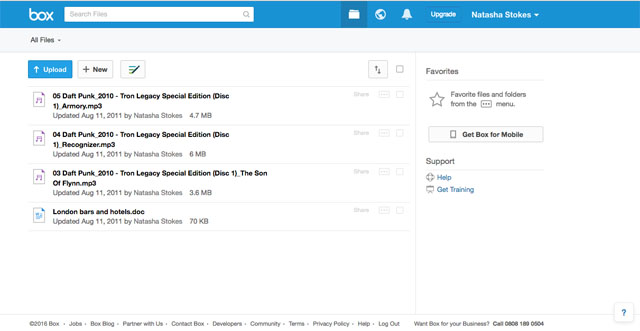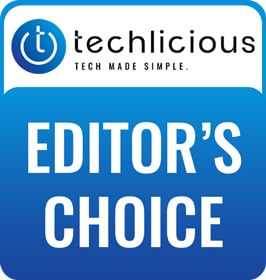 All files are a go on Box, a full-featured platform that's as well-placed for personal as business use. Audio and video files can be played within the file manager. a downloadable add-on Box Edit lets you open saved files from within Box, edit them (as long as you have the software needed on your computer) and save them back to Box. Up to 100 versions of a document are saved. in the event of file disaster, you can revert back to older, happier versions.
Along with sharing files with anyone via email (or a sharable link), you can invite collaborators to shared "workspaces" where they must have an invitation as well as a link in order to view files. The file manager view offers good organization features. View files by name, file size or date created, in icons or a list, and rename, move or lock documents, including a dedicated link to "upload a new version" that may have been created offline.
For business accounts, Box.com integrates with Microsoft Office 365 and Google Docs so that files can be worked on with remote collaborators. Business accounts get finer control over who can view and edit which files.
Cost Free for 10GB; $9.99/year for 100GB
File size limit? 250MB; 5GB on a 100GB account
Ease of sharing Excellent; files can be shared with password-protected and expiration-dated links
Ease of backing up Excellent; desktop app lets you pick a folder to automatically sync
Access across multiple devices Yes, with iOS, Android and web apps
Encryption Encrypted data and transmission but no end-to-end encryption; businesses can subscribe to additional encryption to hold their own encryption keys
Best cloud storage for documents
Dropbox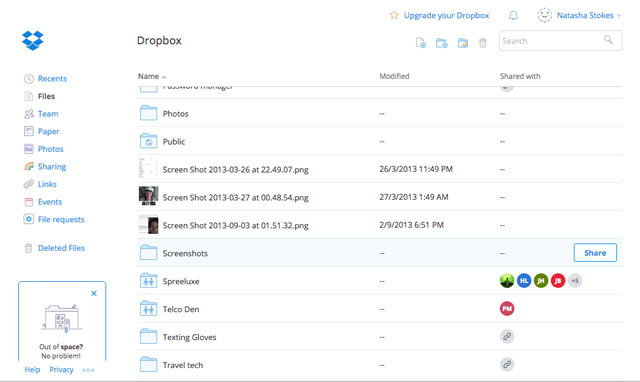 If you're not down with paying for cloud storage and mainly need an online hub for smaller files like work documents, Dropbox is a great option. Dropbox integrates with many apps, so you can easily save content from these apps into an online Dropbox folder. The only downside is comparatively little free storage, though you can bump up your volume by referring friends or purchasing certain phones during promotional periods.
Files shared in Dropbox can be edited simultaneously. Unlike Google Drive (see below), which accommodates changes from all parties at the same time, Dropbox creates two versions of the document while displaying a "conflicted copy" warning. This could be problematic, but old and deleted versions of files are saved for up to 30 days, allowing you to restore any lost jewels of communication. Paid accounts can subscribe to a one-year version history for $39 per year and get more control over file sharing, with password-protected and expiration-dated links.
Cost Free for 2GB; up to 18GB if you refer friends https://www.dropbox.com/getspace; from $8.99/month for 1TB
File size limit? 20GB
Ease of sharing Very good, although you can't adjust different access permissions for members of a shared folder.
Ease of backing up Excellent; download a Dropbox folder to your computer and drag items to sync; automatic backups available
Access across multiple devices Yes, with apps for Kindle Fire, iOS, Android and Windows
Encryption Encrypted Data and file sending, but no option for end-to-end encryption
Best cloud storage for photos
Google Photos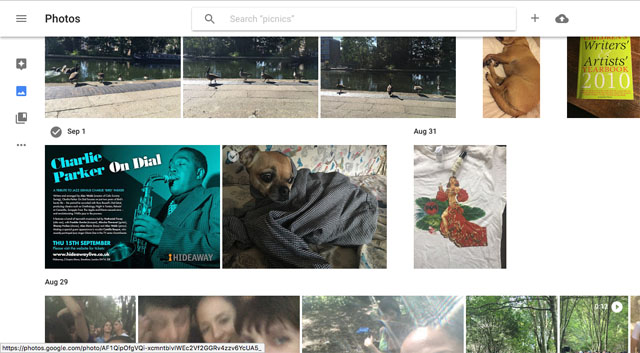 While you'll find many photo storage options out there, we like Google Photos for the way it organizes your pictures. along with time and place, it'll collate burst-mode or similar photos in stop-motion animations and create collages and slideshows (with music!) from pictures taken over a set time period. Its algorithm controls seem to have smartened up recently, too. Our most recent auto-slideshow was named "Summer of Smiles" and contained photos from July and August with subjects who were indeed showing their pearly whites. Alternatively, search for keywords that may or may not turn up related photos. We suspect this function remains a work in progress.
An in-app editor lets you make minor adjustments such as exposure, saturation, sharpness and vignette as well as add filters and rotate photos snapped with a smartphone held the wrong way.
Cost Free for unlimited medium-resolution photos or 15GB of high-resolution photos; 100GB for $1.99/month; 1TB for $9.99/month (counts as Google Drive storage)
File size limit? 16 megapixels for photos and 1080p resolution for video; full-size photos and video count against storage, whereas compressed files do not
Ease of sharing Excellent; share folders or individual photos via email, Facebook, Google+ or Twitter; add pictures to a particular folder, though there's no option for others to add
Ease of backing up Excellent; Android phone pics automatically upload to Google Photos; other phone users can download Google Photos app and choose to automatically sync pics
Access across multiple devices Yes, any web browser and apps for Android and iOS
Encryption Yes, but not end-to-end
Best cloud storage for music and video
pCloud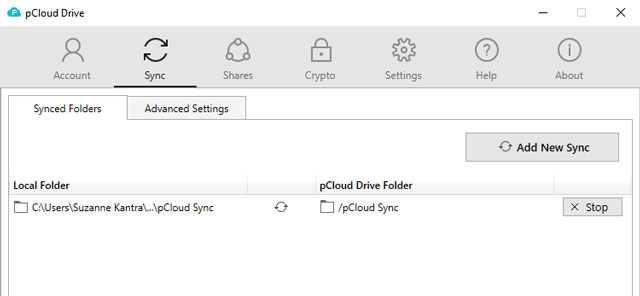 With a generous allotment of storage for a reasonable fee, pCloud is one of the best options if you want to store large files like HD video. This platform includes a helpful file manager with a search feature and file format filter, plus built-in video and audio players that support playlist creation. stream HD video directly from your account, so you won't need to store anything on your hard drive.
There's no limit on how large a file you can upload. the traffic limit (the maximum number of gigabytes you can upload or download) is high — 2TB for the highest-storage account — making pCloud great for backing up video and music and sending links so others can access and download your stuff. If you happen to run low on storage, move files to an archive where they don't count against your allocation.
All data is encrypted, as are upload and download connections, though pCloud retains the encryption key for standard accounts. For $4.99 per month ($47.88 per year or a one-time fee of $125), subscribe to its Crypto service to enable client-side encryption so that only your computer is able to decrypt your files. You can decide which files and folders to protect with Crypto.
Cost Free for 10GB (up to 20GB by referring friends); from $47.88/year for 500GV ($4.99/month if monthly); $96/year for 2TB ($9.99/month if monthly)
File size limit? Unlimited
Ease of sharing Excellent, with different access permissions
Ease of backing up desktop app for Mac, Windows or Linux lets you sync files automatically; auto camera upload feature for Android and iOS
Access across multiple devices Yes, with Android and iOS apps
Encryption Data and file transmission; an additional $4.99/month for client-side encryption for your most sensitive files
Best cloud storage for music and video with full encryption
Sync.com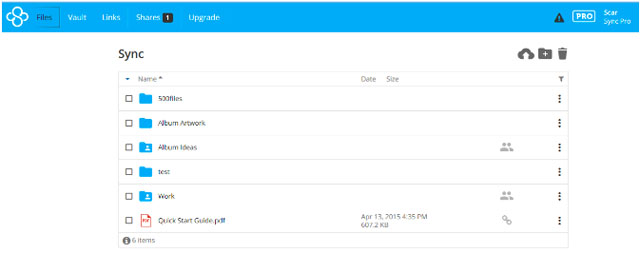 Sync offers a maximum of 2TB of data with no limit on the size of files that can be uploaded or downloaded and a traffic limit of 8GB, handy for anyone who needs to send raw video and music files. The Vault feature lets you archive files you no longer need access to from multiple devices; they'll no longer count against your storage. Pro users enjoy the added benefit of allowing non-Sync users they're sharing folders with to also upload files.
Where this service differs from Dropbox is top-end security. All accounts, both free and paid, are end-to-end encrypted so that Sync.com has no access to passwords or user data. The downside is that you really, really must remember your password. two-factor authentication is also available, and you can turn on notifications to let you know whenever anyone edits a file. Paid Pro accounts can remotely log out and wipe data.
Cost Free for 5GB; $60/year for 1TB; $96/year for 2TB
File size limit? Unlimited
Ease of sharing Excellent; Pro users can create upload links that allow non-Sync users to add files to a folder
Ease of backing up Excellent; desktop app lets you pick a folder to automatically sync
Access across multiple devices Yes, with iOS, Android and web apps
Encryption End-to-end, zero-knowledge encryption
Best cloud storage for collaboration
Google Drive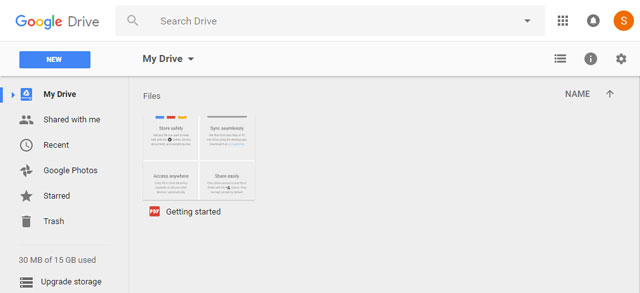 If you use Gmail or an Android phone, you already have a Google Drive account where Google Docs, Sheets and Slides automatically get saved. These web-based equivalents of the full-powered likes of Microsoft Word, Excel and PowerPoint are lighter on features, but they're built for collaboration with support for simultaneous editing from all collaborators and a real-time chat feature. What's more, anything you create with Docs, Sheets or Slides won't use up any of your storage.
save files from desktop programs to Drive as backup and collaborate on them within Drive, though you'll have to open them in Docs, Sheets or Slides, potentially losing some unsupported formatting. A handy tab distinguishes between your own files in the cloud and those that have been shared with you.
On shared folders and documents, you can adjust who can edit, comment or view. You can prevent collaborators with permission to edit from changing access and adding new people, and you can disable options to download, print, copy for commenters or viewers.
One caveat: Gmail counts against your free 15GB of storage. If inbox zero isn't exactly a personal goal, you might find your email has already eaten up several gigs worth.
Cost Free for 15GB; 100GB for $1.99/month; 1TB for $9.99/month
File size limit? Up to 5TB
Ease of sharing Excellent; email, Google+, Facebook and Twitter built in
Ease of backing up Excellent; install a Google Drive folder and drag items there to sync
Access across multiple devices Yes, mobile apps
Encryption Encrypted Data and communications, but no client-side encryption (so in theory, Google would be able to decrypt and view files)
Best cloud storage for collaboration for Microsoft Office users
OneDrive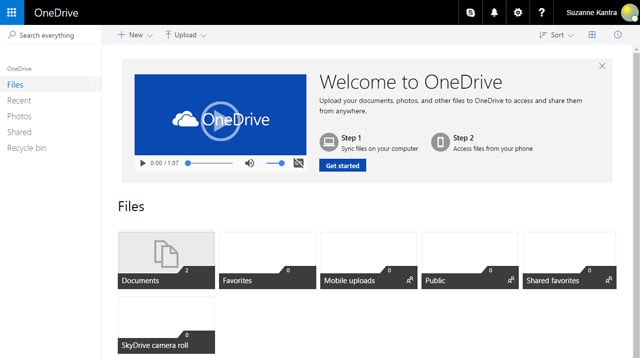 if you use Microsoft Office, OneDrive is the unbeatable collaboration service. It also comes preinstalled on Windows 10 machines. While Office 2016 is running about $150, shell out $7 per month and get 1TB of storage plus your own copy of cloud-friendly work suite Office 365 (at least as long as you subscribe).
Collaborators can simultaneously work on Word, Excel, PowerPoint and OneNote from web clients as well as desktop and mobile software. These programs have far more formatting features than Google's alternative but retain similar online powers of sharing and access. That makes OneDrive handy for small businesses and groups in which some members may not have MS Office but can still view and edit using the free web versions.
Cost Free for 5GB; $1.99/month for 50GB; $6.99/month for 1TB (with Office 365)
File size limit? 10GB
Ease of sharing Excellent; share files and folders and set different levels of permission (with less control than Google Drive)
Ease of backing up Excellent; desktop app automatically syncs files
Access across multiple devices Yes, with Android and iOS apps
Encryption Data and file transmission; word is that Microsoft is friendly to NSA requests for data, so if you have particularly sensitive files, you may want to consider a service with zero-knowledge encryption
Cloud File Storage Services Compared
Best for
Free Storage
File Size Limit
Ease of Sharing
Ease of backing up
Multi Device Access
Encryption
Box.com
All-round storage
10GB
250MB; 5GB on a 100GB account
Excellent; files can be shared with password-protected and expiration-dated links
Excellent; desktop app lets you pick a folder to automatically sync
Yes, with iOS, Android and web apps
Encrypted data and transmission but no end-to-end encryption; businesses can subscribe to additional encryption to hold their own encryption keys
Dropbox
Document storage
2GB
up to 18GB if you refer friends; from
20GB
Very good, although you can't adjust different access permissions for members of a shared folder.
Excellent; download a Dropbox folder to your computer and drag items to sync; automatic backups available
Yes, with apps for Kindle Fire, iOS, Android and Windows
Encrypted Data and file sending, but no option for end-to-end encryption
Google Photos
Photo storage
Free for unlimited medium-resolution photos or 15GB of high-resolution photos
16MP photos, 1080p videos are free, otherwise none
Excellent; share folders or individual photos via email, Facebook, Google+ or Twitter; add pictures to a particular folder, though there's no option for others to add
Excellent; Android phone pics automatically upload to Google Photos; other phone users can download Google Photos app and choose to automatically sync pics
Yes, any web browser and apps for iOS and Android
Yes, but not end-to-end
pCloud
Music and Video storage
10GB (up to 20GB by referring friends)
None
Excellent, with different access permissions
Desktop app for Mac, Windows or Linux lets you sync files automatically; auto camera upload feature for Android and iOS
Yes, with Android and iOS apps
Data and file transmission; an additional $4.99/month for client-side encryption for your most sensitive files
Sync.com
Music and Video Storage with encryption
5GB
None
Excellent; Pro users can create upload links that allow non-Sync users to add files to a folder
Excellent; desktop app lets you pick a folder to automatically sync
Yes, with iOS, Android and web apps
End-to-end, zero-knowledge encryption
Google Drive
Collaboration
15GB
5TB
Excellent; email, Google+, Facebook and Twitter built in
Excellent; install a Google Drive folder and drag items there to sync
Yes, mobile apps
Encrypted Data and communications, but no client-side encryption (so in theory, Google would be able to decrypt and view files)
OneDrive
Collaboration for Microsoft Office Users
5GB
10GB
Excellent; share files and folders and set different levels of permission (with less control than Google Drive)
Excellent; desktop app automatically syncs files
Yes, with Android and iOS apps
Data and file transmission; word is that Microsoft is friendly to NSA requests for data, so if you have particularly sensitive files, you may want to consider a service with zero-knowledge encryption
Updated on 10/29/2017 with new picks and updated pricing and storage information
[Image Credits: Cloud storage via Shutterstock]
Discussion