It's obvious why only a few tech-hardy souls have bought a 3DTV. There's hardly any 3D to watch other than ESPN 3 unless you're a DirecTV subscriber. If you want to watch a 3D movie, you not only have to buy the 3DTV but a new 3D Blu-ray player as well.
And then there are the glasses. Wearing them in the movie theater is acceptable. But we'll forgive you if you think wearing glasses in your living room to watch TV is, well, stupid, especially glasses that need batteries.
HDTV makers can't do much about 3D content, or lack thereof, but they have done something about the glasses. They haven't gotten rid of them – glassless 3D is unlikely for at least a decade – but they have gotten rid of the batteries.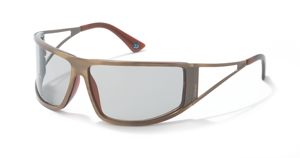 This week, at least three manufacturers – Vizio, LG, and JVC – have unveiled "passive" or "circular" 3DTVs, which use the same cheap polarized glasses you get in the movie theater. And if you want something a bit more stylish, a new company with a familiar name, Polaroid Eyewear, will sell fancy polarized glasses for around $30.
What is 'passive' 3D?
All 3D uses polarization technology invented by the guy who invented Polaroid cameras, Edwin Land, back in 1936. 3D is accomplished by filtering and directing left and right filtered image streams to each eye. With active shutter technology (the 3DTVs now in stores), the 3D filtering is done by the glasses, which is why they need batteries. In passive 3D, the filters are built into the TV, so the glasses.
"Circular" refers to the movement pattern of the polarized light photons as they move toward the eye. One stream rotates clockwise for one eye, the other rotates counter-clockwise for the other eye. Something called a quarter-wave retarder ensures the separate photon streams reach your eyes at the same time instead of the natural way polarized photon streams come at you, in a "linear" fashion, one behind the other. Each lens in the passive glasses is matched to read one of those polarized circular photon streams.
Got it? No? Well, that's okay. What really matters are the pros and cons for you at home.
Passive pros and cons
Cheap plastic glasses have some obvious and not so obvious advantages over their more expensive ($125-$150) active relatives. They're feather-light. They're universal – you can throw a party and everyone can bring their glasses, and you can afford to supply those who don't. They can be curved, which means less room light leaking into your peripheral vision, which can bleach out the 3D image.
And, yes, you'll also be able to use these passive 3D glasses in a movie theater, although convincing the usher you don't have to return your own glasses may be a problem.
But not all is hunky-dory in passive 3D land. First and foremost, passive 3D is only half resolution – 540 lines – to each eye; active 3D provides a full 1080p image to each eye. That sounds awful, but only Blu-ray can produce a full HD to each eye image. Broadcast and cable 3D is and will be half resolution for the foreseeable future.
Will you be able to see the difference? Platinum-eyed experts say they can, but there hasn't been a hue and cry about 3D quality issues from ESPN 3D viewers.
One thing you won't see on a passive 3DTV is flicker. Active shutter glasses flick on-off (the shuttering) at 60 times a second, which more sensitive viewers actually may be able to detect. It's that shuttering, combined with the continual eye/brain focusing needed for 3D, that creates those 3D viewing headaches.
Passive 3D filtering is done seven-feet-away in the TV rather than an inch away from your eyes in the glasses, which means there ought to be less flicker and, therefore, fewer 3D headaches.
The New Passive 3DTV Models
Vizio actually jumped the passive 3D gun by announcing its 65-inch Theater 3D Edge Lit Razor LED (model number XVT3D650SV) three weeks ago. You can buy it now for $3,700.
On Wednesday morning, LG announced its LW6500 series LED LCDs passive 3D, which use the company's "TruMotion 240 Hz". All the LW6500 models also are "smart" TVs. Connecting an ethernet cable or buying an optional WiFi dongle gets you access to LG's proprietary apps, including HuluPlus and YouTube.
And today, JVC introduced its consumer passive 3D sets.
Although they didn't announce passive 3D sets, Samsung, Toshiba and other LCD HDTV makers are likely to actively jump on the passive 3D bandwagon, creating a bonafide trend.
Whether or not more TV is broadcast to justify you buying an active or passive 3DTV remains to be seen. And the first passive sets will be more expensive than active shutter sets, but I'm sure the prices will come down quickly, just as they did when active 3DTVs were launched last year.