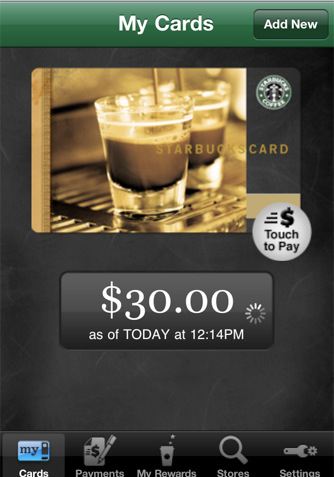 A Triple Venti Two-Pump Skinny Mocha: That's my drink of choice at Starbucks. Clearly I'm one of those high-maintenance regulars. So I was delighted when I found out that I no longer have to carry my Starbucks Gold Card to make payments and earn points in the My Starbucks Rewards program. All I need is the Starbucks Card Mobile App for BlackBerry or iPhone.
The app lets me make purchases, check my Starbucks Card balance, reload my card and find nearby stores. To pay, I simply hold my iPhone up in front of a scanner on the countertop and scan the Starbucks Card Mobile App's on-screen barcode. I can also always use my physical card. Scanners compatible with the app have been installed in Seattle, Northern California, New York and more than 1,000 Starbucks in U.S. Target stores.
To download the Starbucks Card Mobile App, BlackBerry owners can text the word "GO" to 70845 or download it from Starbucks.com using their phone. It's available for most popular models, including BlackBerry 8800 series; BlackBerry Bold series; BlackBerry Curve series; BlackBerry Storm; BlackBerry Storm2 and BlackBerry Tour.
The app is also available for iPhone and iPod touch running iOS 4 from the App Store.