I've used a Philips Sonicare toothbrush for years and, anecdotally, I can say it works far better than using a manual toothbrush. My dentist seems to agree. At my last visit he said to me, "Keep doing whatever you're doing, because things look great!"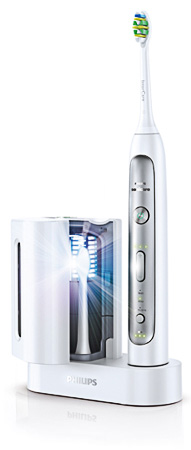 Now, a recent clinical study from Sonicare demonstrates that the new Philips Sonicare FlexCare Platinum removes 7x more plaque than manual brushing and can significantly reduce gingivitis in as little as two weeks. And, in a separate study, the FlexCare Platinum also beat out its rival the Oral B 5000 for plaque removal.
Beyond its superior plaque removal, the new FlexCare Platinum provides a total of nine possible brushing options, combining three brushing modes—Cleaning, Whitening & Gum Care—with three intensity level settings. In addition, the FlexCare platinum offers a new pressure sensor that automatically alerts you when you're brushing too hard. And if you travel with your Sonicare like I do, you'll appreciate the battery life of up to three weeks.
The new FlexCare Platinum will be launching later this month at select retailers and will sell for $199.99 for the model with a built-in UV sanitizer and $179.99 without. You can pre-order the non-UV model now from Amazon for a special price of only $159.95.