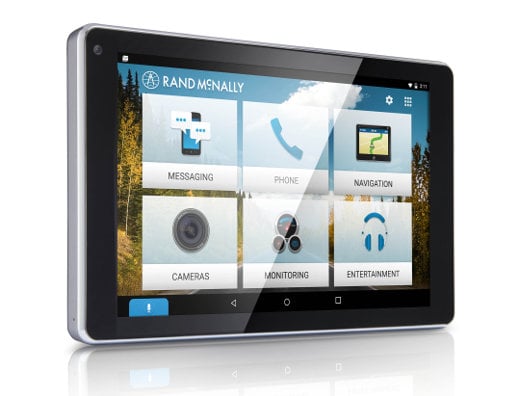 If your car boasts little to nothing in the way of sophisticated electronic features, Rand McNally can help you upgrade to the smart car era for less than $300. The OverDryve dashboard tablet provides voice control, hands-free messaging, forward collision detection and many other smart features to your older vehicle.
The OverDryve turns your ordinary car into a smart and connected vehicle, giving you the kind of state-of-the-art smart features now standard in luxury vehicles. Attach the OverDryve to its magnetic mount on your dashboard and you're good to go.
What smart features can your simpleton of a car acquire through OverDryve? Quite a lot, actually. With OverDryve on your dashboard, you can use hands-free assistance to make phone calls or reply to messages; speak the commands, and the tablet takes care of the rest. OverDryve includes navigation functions and road collision warning system features to make your road trip safer. And, the tablet doubles as a dash cam for recording your trip.
You can extend OverDryve's basic safety and diagnostic features with separate accessories. With the help of a back-up camera, OverDryve can put an extra pair of eyes at the back of the car to give you a rear view when backing up. Accessories for extra diagnostic features let you check vehicle fault codes, fuel efficiency, temperature and tire pressure.
OverDryve also provides entertainment to keep you and your passengers from getting bored on the road. Listen to streaming music, FM radio and the latest news and weather updates. You can bring the tablet out of the car with you to watch movies, browse social networks and check email; for your safety, these functions are disabled when the tablet is mounted or set in Driver Mode.
OverDryve will be arriving on store shelves in a few months starting at $299. For more information or to preorder, visit the OverDryve website.
[Image credit: Rand McNally]