A solid navigation app offers turn-by-turn directions, bicycle routes, traffic updates, and access to offline maps -- crucial if you need to preserve data and iPhone or Android Phone battery life.
And if you're after extra features, there are apps for finding the quickest way to hit dozens of stops, apps for planning the ultimate road trip, and apps to navigate you around traffic jams.
We've rounded up five of our favorite navigation apps below. Let us know in the comments if we've missed your go-to.
Best for Dodging Traffic: Waze

This full-featured navigation app has extra oomph in the traffic alerts department. It crowd-sources traffic information from other drivers using the app, with a friendly map interface that shows icons for accidents, hazards, road closures, speed cameras, and police officers waiting for the next leadfoot to whiz by. Red lines show how long traffic jams extend for, and the app can automatically reroute you to an alternate path.
You can help other Waze users out by reporting nearby traffic conditions, including a handy feature to add a photo and a note about whether the trouble is on your side or the opposite side of the road.
The search function works with places as well as addresses and suggests places based on your location and previous entries. You can also navigate to car services, public transport, restaurants, shops, and more by leveraging Google and Foursquare.
Once you select your destination, Waze comes up with alternate routes you can take and remembers preferred routes after you drive them a few times. And, you can create a Planned Drive by entering the time and date you need to arrive and Waze will recommend the best time to leave. A nice touch: you can send your ETA by email, text, or Whatsapp to your contacts, and sync Facebook and phone calendars so that upcoming events appear in the list of navigation options, including Planned Drives.
Turn-by-turn voice directions? Yes
Cycle routes? No, driving routes only
Traffic reports? Yes
Offline maps? No
Add stops? Yes
You'll love: Accurate, up-to-date traffic info and good rerouting to get you around severe traffic.
But: Some of the user-submitted info isn't comprehensive or edited (for example, place names might not be capitalized).
Price: Free for Android, iOS on waze.com
Best Offline Maps App: CoPilot GPS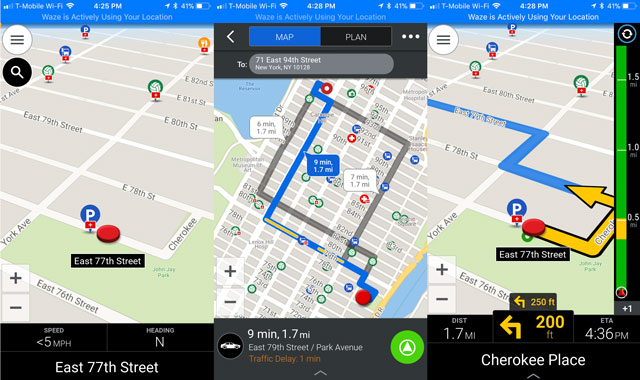 For-pay navigation apps don't have a great case against freebies like Google Maps and Waze -- except when it comes to offline use. A full-fat nav app like CoPilot GPS is a good idea if you're overseas, for instance, and don't want to use roaming data or depend on Wi-Fi stops to update Google Maps.
You'll only need to download maps once -- ideally over Wi-Fi as they're fairly data-heavy -- but once that's done, you can get turn-by-turn voice directions, plan new routes, and use Google-powered search to save new places or addresses for when you're offline. Along with a clear interface showing the next two turns, you get lane guidance for highway driving. And if you end up missing your exit, the rerouting feature quickly gets you back along your way.
The app also logs your speed, with warnings when you're nearing the limit, and shows speed camera locations. Its price tag includes 12 months of ActiveTraffic, which finds the quickest routes based on live traffic info.
Turn-by-turn voice directions? Yes
Cycle routes? Yes, and walking
Traffic reports? Yes, free for 12 months then $9.99/month after
Offline maps? Yes
Add stops? Yes
You'll love: Excellent search feature for places and addresses; a comprehensive navigation interface that shows ETA, next turns, and overall route; offline use means minimal drain on your smartphone battery.
But: If you don't often drive where you can't access the internet, CoPilot may not offer much more than the free Google Maps.
Price: $9.99 for Android, iOS and more options on copilotgps.com
Ultimate All-Arounder: Google Maps

Apple Maps, preloaded on iPhones, may have improved its data accuracy since its wobbly launch, but as a mapping app that still eschews cycling routes, it loses out to Google Maps for everyday navigating.
You open Google Maps to figure out where that bar or restaurant is and tap the navigate icon in the bottom right of the screen to instantly give you a few routes from your current location. You can also tap "Explore Nearby" to see the best user-rated restaurants, bars, and entertainment, along with a filter for how long you're willing to walk or drive to get there. And, you can search within your route for nearby gas stations, coffee shops, restaurants or anything you need and add it to your current route.
The turn-by-turn directions are well-timed, while the search function is top-notch, with auto-suggestions and predictions based on past searches. Once you're on your way, the app continually checks the speed of alternate routes, popping up options to switch to faster ones when they're available.
If you're going to be navigating without a data connection, you can save maps for offline use, complete with voice directions. Maps expire after 30 day, though, so you'll need to make sure you've refreshed your maps if you're going to be without cell service.
Turn-by-turn voice directions? Yes
Cycle routes? Yes, as well as walking and public transport directions
Traffic reports? Yes
Offline maps? Yes
Add stops? Yes
You'll love: Excellent integration with other Google software. If you use the Chrome browser on your smartphone, you can search for a place, then tap the map result to open it directly in Maps. Android users can mark routes and locations on custom maps in a web browser, save them to My Maps, then access them in the smartphone app.
But: No speed camera warnings.
Price: Free for Android (preloaded), iOS on maps.google.com
Best for the Great Outdoors: Komoot

This navigation app covers an exhaustive range of North American bike paths and mountain trails, with topographic maps for hiking and biking routes near you. Its database is built from open-source info as well as user-submitted data to suggest trails for different fitness levels.
Since you're (hopefully) going to be out of radio contact, it's extra handy that the maps and turn-by-turn directions work offline. You can also check out factors like difficulty, surface, elevation, and distance along a particular route. And while navigation, the interface shows your pace plus distance traveled and distance remaining.
The first map (with voice directions) is free; after that, maps cost around $3.99 for one region (basically a city or county); $29.99 for the All-Regions package (which currently includes most of Europe, U.S., Canada, plus some countries in Asia). Updates are free.
Turn-by-turn voice directions? Yes
Cycle routes? Yes, along with hiking, road biking, and mountain biking
Traffic reports? No
Offline maps? Yes
Add stops? Yes
You'll love: The greater the number of trips you take with Komoot, the better it can recommend trails for your fitness level.
But: The area defined by a Komoot "region" isn't large, so if you're an infrequent hiker, the cost of purchasing extra regions might not make sense.
Price: $3.99 - $29.99. Available for Android & iOS
Best for Road Trips: inRoute Route Planner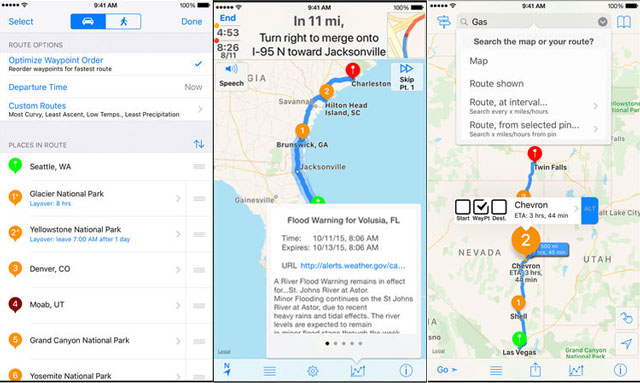 We've used Google Maps to smoothly navigate thousands of miles' worth of road tripping, but when it comes to the planning of a multi-stop, non-direct trip, inRoute has the search giant beat. The free version allows you to plot a route with up to five stops through an intuitive map interface: Drop pins on places you want to go and the app figures out the route. A cool search feature lets you hunt for places of interest such as a gas station or restaurant within a particular distance from you, or at regular intervals along the way.
You can adjust when and where you drive based on extra info gleaned from live-updated weather condition charts, as well as the curviness and elevation of various parts of the route – handy if you're driving an eight-berth RV and want the straightest possible roads (or a motorcycle and want the opposite).
But it's the $14.99 upgrade to Premium that unlocks the real road-trip magic: the ability to add up to 25 stops (or up to 100 stops with Pro for $29.99 every year), along with the amount of time you want to stop in each place, and an optimization feature to reorder your stops into the fastest, most fuel-efficient routes. It's perfect for planning road trips.
Turn-by-turn voice directions? Yes, with Premium and Pro upgrades
Cycle routes? No
Traffic reports? No
Offline maps? No
You'll love: Being able to plan a looping route that hits up various destinations before ending up back at your starting point – gas stops, breaks and sleeps included.
But: You have to upgrade to get directions and the app only gives you one route. However, you can export your route to another navigation app, such as Google Maps or CoPilot, if you upgrade.
Price: See above. Available for iOS
Updated on 1/4/2019
[navigation app in car image via Shutterstock]