Samsung's QLED TV lineup continues to impress. While other TV-makers — like LG and Sony — have focused on OLED technology as their premiere TV technology, Samsung flagship line is still comprised of LED TVs, which it calls QLED for "quantum dot LED." While quantum dot technology has been available for a few years, Samsung has further refined the technology for its 2018 line to produce more and brighter colors, wider viewing angles and darker blacks than standard LED TVs and even start to rival OLED TVs, which typically outperform LED TVs on true blacks and viewing angles.
But it's Samsung's smart features that really make its sets stand out. The most unique among them is a new ambient mode, which makes the TV blend seamlessly into the wall when you aren't watching anything. It's an impressive effect: ambient mode makes for TVs that are no longer black boxes on the wall, but instead completely unobtrusive parts of the room. It's relatively simple to set up, too. You'll need to use the Samsung SmartThings app (which is available for both iOS and Android) to snap a picture of your television. Then, like a chameleon, the television will blend into the wall behind it. It's all automatic.
Samsung's setup is also tremendously user-friendly. You won't find yourself digging through a nest of cables behind the television, painstakingly programming the remote to talk to your other connected devices, or even entering passwords. Samsung's One Invisible Connection means you can connect the TV to power and your other AV devices with a single cable. (And at lengths up to 15 meters, your television won't have to sit anywhere near your connected devices.)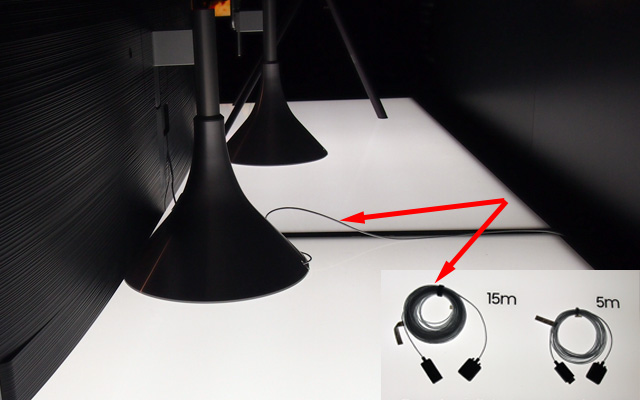 The TV will auto-detect any devices you connect it to and program the remote to control them, all without any effort on your part. With a Samsung phone or the Samsung SmartThings app, your phone can pass your Wi-Fi login information along to your television, so there's nothing to enter except your Netflix password. But in the future, you may not even have to do that: Samsung's effortless login feature will eventually do the same with other apps, like Netflix and Hulu.
Bixby, Samsung's voice assistant, also makes an appearance on these new TVs. You'll be able to control them with your voice rather than a remote, easily searching for things to watch, whether streaming or through your cable subscription. As anyone with a streaming subscription knows, sorting through multiple streaming services to find what you want to watch is a hassle — but Bixby will do it for you.
These TVs also tie into your smart home as long as it's compatible with Samsung's SmartThings. You'll be able to monitor connected devices — like cameras and baby monitors — from your television, and control them using Bixby or your remote.
These features make for some extremely smart — and extremely easy to use — TVs, which will particularly appeal to anyone who already uses Samsung SmartThings. This year's QLED lineup comes in sizes ranging from 88" to 55", with 8K or 4K resolution. You'll be able to get one for yourself starting this month.
[Image credit: Suzanne Kantra/Techlicious]