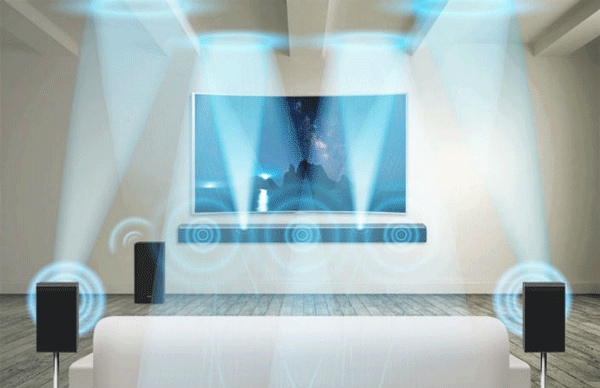 At CES this week, Samsung announced its new HW-K950 Soundbar, which it says brings you right into the action of movies, even at home.
Samsung's HW-K950 Soundbar uses Dolby's Atmos technology, which goes beyond the standard audio channels to deliver sounds in a 3-D space. In the past, audio engineers had to assign sounds to 5.1 or 7.1 channels corresponding to five or seven speakers to match most home theatre setups.

However, that meant that you hear sounds in movies and other media only where your speakers are set up, and there wasn't much creative freedom for audio engineers to make movie effects come alive. Atmos uses what it calls audio objects to let up to 128 sounds come from wherever audio engineers want them to—this includes sounds overhead and coming from places in the room that match where they actually are on the screen.
Samsung's soundbar has three forward-facing and two upward-facing speakers that make hearing sounds from all directions possible without having to install speakers in the ceiling. The HW-K950 also connects wirelessly to subwoofers and other speakers to make it easy to set up a whole home theater system with minimal work.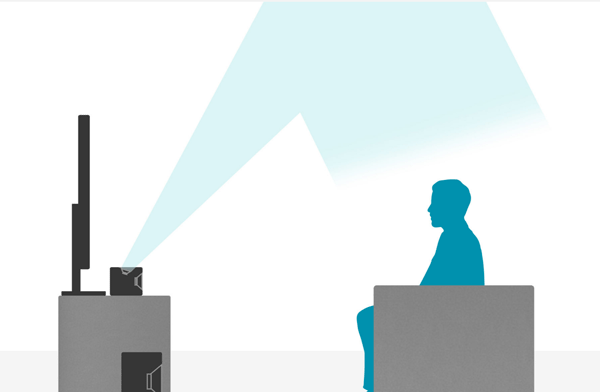 How Samsung's HW-K950 Soundbar with Dolby Atmos works.
Samsung isn't the first company to use the Atmos tech for a soundbar; in November, Yamaha announced its YSP-5600 soundbar. The difference between the two is that to make this entire home theater setup, Yamaha uses just its soundbar and a subwoofer, while Samsung uses its soundbar, a subwoofer and two rear speakers.
With any new home theater technology, there's always the question of what media content will actually use it. In November, internet movie streaming service Vudu announced that it is offering remastered Warner Bros. movies with Atmos for rental or purchase, including Mad Max: Fury Road, American Sniper, Man of Steel, Jupiter Ascending, The Great Gatsby and Magic Mike XXL. They cost about $10.00 per rental and $25 to $30 to purchase. And Star Wars: The Force Awakens is playing in Dolby Atmos theaters, too.
It's pretty easy to set up a soundbar. Check out our soundbar setup guide to help you make home movie night feel like a night at the movies.
[Samsung Soundbar via Samsung, Surround Sound and Dolby Atmos Systems Explainers via Dolby]