The leading maker of multi-room streaming speakers, Sonos has long offered music lovers an uncommon freedom of choice with its 100-plus streaming music services, multiple components, helpful control apps and voice assistant options. Still, Sonos customers have craved something more - a portable, wireless speaker that could deliver the music outside to a balcony, patio or pool deck and be used away from the Sonos network. And it's finally here in the Sonos Move.
"Over the past two years, those are the number one and two things people have been asking for," shared Sonos president Patrick Spence at a recent product preview.
Now, with "very real engineering problems overcome," they can have their wishes fulfilled – with the Sonos Move. It's a handsome, super sturdy, 6.61-pound hunk of engineering that plays loud and proud for up to ten hours between battery charges (taking two hours to recharge on its ringed recharging base or with a USB-C cable-to-power connection.) Ready for rough treatment, Move is IP56-rated for water and dust resistance, shrugs off drops and shocks, extreme temperatures and all manner of goop (suntan lotion, ketchup, wine, bleach.)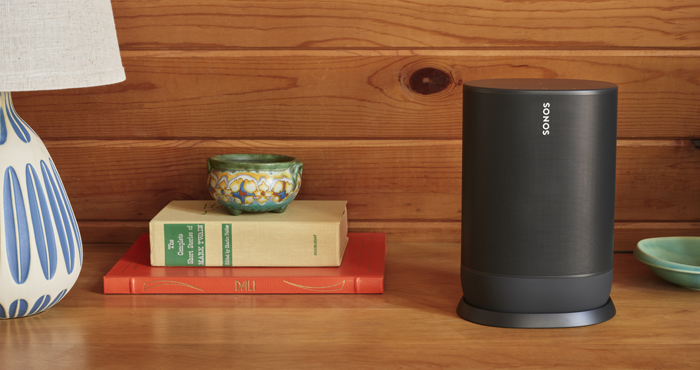 Move uniquely adjusts the speaker's equalization for optimized performance in your chosen indoor or outdoor listening environment, using an improved "Auto Trueplay" version of the EQ processing that tunes up other Sonos speakers with help from a sound-sussing iOS smartphone or tablet. With Move and Auto Trueplay, the 20-second process is automatically triggered whenever the accelerometer-equipped system detects the speaker has been moved. Sound measurements are taken internally with the same on-board microphones used for cuing your selected virtual assistant. More than 10,000 data sets for sound optimization are preloaded for speedy contouring. In our brief demo, the location adjusting worked well to optimize pop rock performances from Tame Impala and Billie Eilish, reducing the bass and clarifying the vocal when the speaker was pushed into a confining bookshelf unit then auto-cranking up the bass when moved onto a wide open Manhattan roof deck.
To link and sync with other Sonos compact speakers and soundbars, the Move boasts "the best Wi-Fi" (802.11 b/g/n on both 2.4 and 5 GHz bands) "with the longest signal reach we've ever built into a speaker," explained Hilmar Lenhert, audio technology manager. Move will communicate mainly to and through the homeowner's router, though can be configured to interface directly with Sonos siblings (in daisy-chained fashion) via the Sonos' proprietary MESH Network.
And when you're traveling farther afield? Tapping a button on the cabinet back shifts Move into Bluetooth 4.2 reception mode, to play audio directly from a smartphone or tablet.
Like other Sonos products, Move also supports AirPlay 2, third party apps like Spotify Connect and Lutron Connect home control, and today's all-important voice control from either Amazon's Alexa or Google Assistant.
A reinforced metal, plastic and fiberglass enclosure (9.44" H, 6.29" W, 4.96" D) affords higher output from the "mid-woofer" speaker while a carefully tweaked wave guide disperses the output of the down-firing dome tweeter to evenly serve listeners in front and to the sides of this entertainer. There's minimum leakage to the rear, so as to not disturb the neighbors – a real bone of contention discovered by Sonos testers in backyard field studies. (Going for a center court advantage, the new Bose Wi-Fi/Bluetooth portable speaker promises full 360 degree sound dispersion.)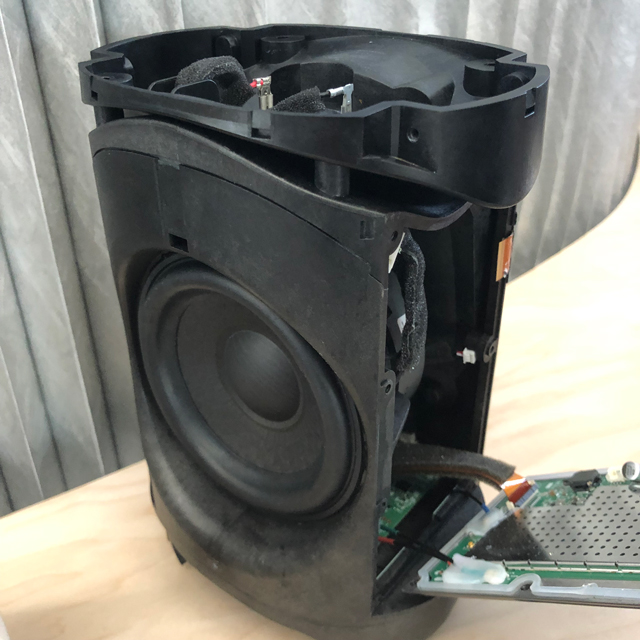 "Setting a new bar in durability" in the portable speaker space, Sonos engineers pelted the product with sand then flushed it clean with a garden hose, even put Move to an extreme drop test onto concrete, shared Spence. "To our astonishment, the speaker stayed intact while the concrete cracked!"
The Sonos Move can be pre-ordered now for $399 on Sonos and will start shipping on Sept. 24, 2019.
[Image credit: Jonathan Takiff/Techlicious, Sonos]