No one wants to work or live in an oven. That's why we install air conditioners at home or at work to ensure the room temperature stays comfortable enough for us to be productive or to relax. The Tado Smart AC Control lets you do that wirelessly and automatically from anywhere.
If your air conditioner uses an infrared remote control that displays the current settings (such as mode, temperature and fan speed), you can replace it with the Tado Smart AC Control. Mount the Tado Smart AC Control on the wall, or place it where it has a direct line of sight to your AC unit's infrared sensor. Setup is that simple.
A companion app for Android, iOS and Windows Phone devices lets you control your air conditioner remotely over the internet via the Tado Smart AC Control. Even if you're still at the office or on the bus on your way home, you can remotely turn on the AC or adjust the thermostat so your home will be the perfect temperature when you arrive. Only one smartphone is needed to control several air conditioners in different rooms of your house.
You can set up the Tado to monitor if there's anyone there. When the last person has left the house, the Tado Smart AC Control shuts down the air conditioner, or when the first person arrives home, it turns the AC on automatically.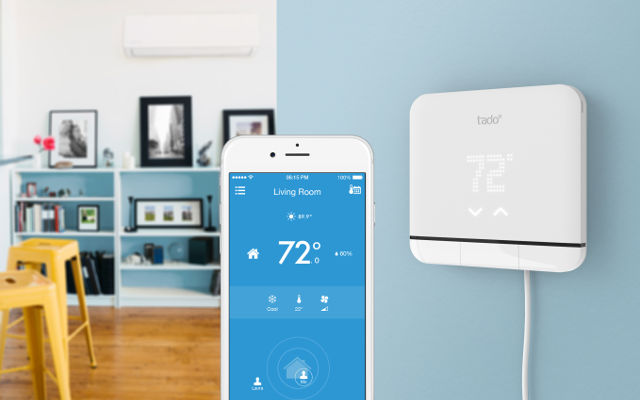 Since the Tado Smart AC Control works with the online automation IFTTT (If This Then That) service, you can link it up with other IFTTT-compatible smart devices so that it can interact with them. For example, create a recipe that turns on your house lights at the same time as your AC, or hook it up with Alexa so that you can say something like "Alexa, turn on the air conditioning" using your Amazon Echo or the new Amazon Echo Show.
Set up a temperature schedule that matches your cooling needs at certain times of the day. So if you can stand higher temperatures when you're awake, but like it to be cooler while sleeping, you can do that.
The app shows reports of when the thermostat was adjusted, what the temperature was and approximately how much energy you saved. The Tado Smart AC Control's ability to set your AC according to your needs lets you save up to 40 percent on air conditioning power consumption costs.
The Tado Smart AC Control is available on Amazon for $174.99. If you're looking for a new air conditioner, check out our posts on how to select the best window air conditioner and on the best portable air conditioners.
[Image credit: Tado]