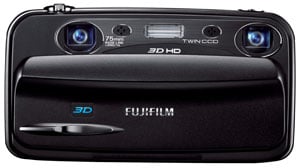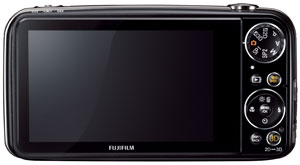 Fujifilm makes shooting 3D home movies in HD affordable with its second generation 3D camera, the FinePix REAL 3D W3. The W3 will be available in early September 2010 at a retail price of $500.
The other current consumer models—the DXG 5D7V 3D Pocket Camcorder ($600) takes video in standard definition and Panasonic's HDC-SDT750 Full HD 3D camcorder ($1,400
) is designed for the enthusiast or amateur film maker.
As a 3D camcorder, the W3 uses two sensors to capture the right and left-eye images at 720p (1024 x 720). As a 3D camera, the W3 takes 10MP photos with its 3x optical zoom lens (35-105mm equivalent). For both you can easily switch between 2D and 3D shooting with the press of one button.
Like Fujifilm's first generation model, the W1, the W3 sports an auto-stereoscopic display on the back—a high-resolution 3.5-inch version that you can use without 3D glasses. You can also connect the W3 to your 3DTV using the built-in mini HDMI port to watch 3D movies and view 3D photos.
In the box you'll find MyFinePix Studio 3D Movie and Photo Editor, which enables you to edit captured 3D images as well as cut and splice 3D movies.