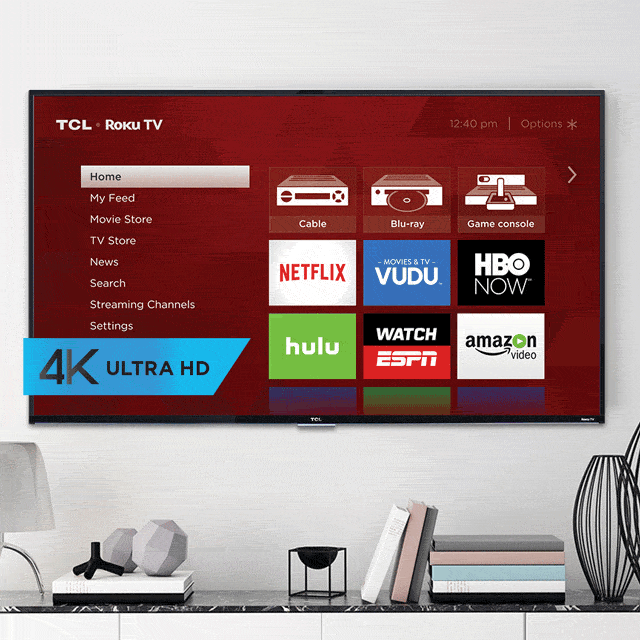 TCL's Roku TVs integrate the streaming box's operating system into the television itself, and now that the Roku 4 is UHD 4K-compatible, TCL has announced it's dropping its own line of Roku-enabled UHD 4K big screens.
Chinese company TCL has been around since 1981, but has recently made a name for itself in the North American market, becoming America's fastest growing TV brand. This is in part due to its TVs that use Roku's OS to connect cord cutters to 3,000 streaming apps like Netflix and Amazon. Many of those services, including Amazon, have introduced 4K ultra-HD content to their collections, so TCL's six new 4K TV models are a logical addition to their line-up.
These TVs have a quad-core processor to handle the over eight million pixels that make UHD 4K televisions' pictures sharp and clear. A new Roku 4K Spotlight Channel will allow users to quickly find content optimized for 4K, showing the free options firs. But if you're watching Full HD 1080p content, don't fret: TCL's 4K TVs feature UHD upscaling, so whatever you're watching will look better. Dual-band Wi-Fi and Ethernet work to ensure your streaming content remains buffer-free, and four HDMI 2.0 inputs support all the 4K data that comes from peripherals like 4K UHD Blu-ray players.
The P130 models also come with a feature-heavy remote. Users can search for channels and content with just their voice (like their Amazon Fire TV and Apple TV counterparts). If you lose the remote, just use the TV to sound the alarm and find it again. Of course there are Roku remote apps for iOS and Android devices if it really goes missing. The final new feature is a headphone jack so you don't bother your loved ones when you watch the Food Network at 3 AM.
The availability of the 43-inch, 50-inch, 55-inch and 65-inch P130 models hasn't yet been announced, but TCL's S5800 4K Roku TVs are available today for pre-order from Amazon and begin shipping March 30.
Price: TCL S5800 55-inch 4K TV $599.99 on Amazon; TCL S5800 65-inch 4K TV $999.99 on Amazon
[TV via TCL]