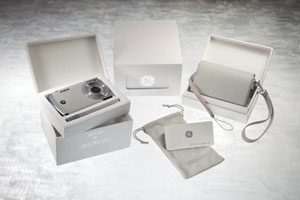 GE is trying a new approach with the Create camera. It is, in fact, a bit reminiscent of Flip's take on digital camcorders: fun colors, a user-friendly interface, and a cute design. But the Create, with its hip pedigree - Jason Wu, couture creator for the First Lady herself, was the designer - seems to masquerade as a multifunctioning fashion accessory. Don't be fooled. Underneath its sleekly modernist exterior, the Create camera is a fully operational point-and-shoot camera, replete with functions that are both simple and convenient.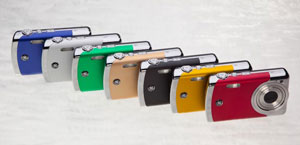 First, let's have a word about that exterior. The Create is sold as a bundle: the camera itself, a leather case, a microfiber carrying pouch that does double duty as a cleaning cloth for the lens, and wrist and neck straps for hands-free portability. In keeping with the designer theme, there are seven metallic color choices for the camera (white, black, red, yellow, gold, green, and blue) and three in leather (white, black and gray). While the overall look is certainly attractive, it's not aggressively chic; anyone would feel comfortable using this little gadget.
That brings us to the heart of the matter: the Create's easy-to-use features. For people who want a standard point-and-shoot camera or who long for the simpler film cameras of their youth, operating the Create will feel natural. There are no menus to wade through or myriad scene modes – just press and shoot.
And when it comes time to transfer your pictures to your computer, the retractable USB connector eliminates hunting around your office drawers for a spare cable, or having to pack one if you are traveling. Finally, built-in software assures compatibility with both PC and Mac operating systems.
The Create sports a 3x optical zoom, 12-megapixel resolution, a rechargeable battery and a 2.7-inch LCD screen. Storage for photos and videos is built into the camera. The 4-gigabyte model has a suggested retail of $179.99; an 8-gigabyte model (with all the same features) retails for $229.99.
Who will enjoy owning a Create? Fashionistas will naturally be drawn to its chic lines and Jason Wu's trendy name, but these qualities shouldn't scare off other consumers. Anyone who is looking for a basic digital camera with a slew of features that make snapping photos quick and transferring them painless should consider it.