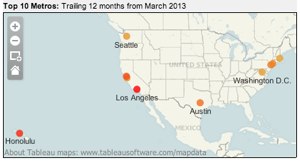 I've lived in Los Angeles for a year now, and I can provide first-hand testimony that traffic here is as bad as the jokes suggest. I've had three-hour commutes to go 10 miles. I've been in traffic jams at 2AM. Mountains, brutal solar glare, and a glut of vehicles all combine to make driving here an absolute nightmare.
So when I heard INRIX, a traffic monitoring company, released a list of the most congested cities in America, I had a hunch my city made the top of the list. Turns out I was right: The City of Angels is hands down the worst city in the country when it comes to traffic.
According to the INRIX National Traffic Scorecard, Los Angeles drivers lost an average of 60.3 hours in traffic over the last twelve months – one-and-a-half full workweeks – easily earning its place on top of the list. Honolulu is the second worst city, costing frustrated drivers 51.1 hours per year. According to the survey, the 10 worst cities in the country for traffic are:
Los Angeles, CA
Honolulu, HI
San Francisco, CA
Austin, TX
New York, NY
Bridgeport, CT
San Jose, CA
Seattle, WA
Washington, D.C.
Boston, MA
There is a promised land where the lanes are clear and traffic flows without problems: Greensboro, North Carolina. Drivers there lose less than an hour a year to traffic, making it the smoothest flowing traffic in the nation. Fort Myers, FL; Wichita, KS; Melbourne, FL; and Omaha, NE round out the top 5 traffic-free cities.
What to do? INRIX has its own traffic app (free on iTunes and Google Play Store) that not only shows current traffic reports from official sources, but crowdsources the information from other drivers using the app as well. And don't forget Google Maps (free at iTunes and Google Play Store) which also offers real-time traffic reports through your smartphone. It also offers routes using public transportation including up-to-date subway arrival and departures in select cities.
Note that it isn't wise to check on these apps while driving. Your best bet is to plan your route before heading out. A recent report showed that smartphone use while driving impairs the driver as much as being legally drunk even if you are only interacting with your phone hands-free via voice commands.
And if you're looking to cut your gas expenses from all that sitting in traffic, check out these ways to save money at the pump.