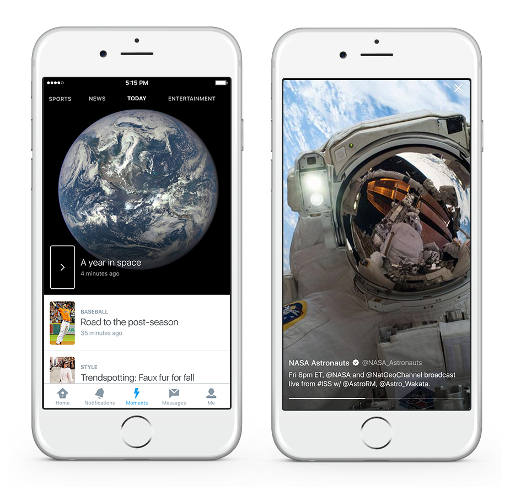 Twitter has opened a new window to tweets on breaking news, interesting events and trending topics. The new Moments feature offers easier and quicker access to the best of what's going on on Twitter at any given moment.
Launched this week and initially available only to U.S. users, Moments lets you find interesting Twitter content even without following new people or keeping a close watch on local or global trends.
A Moment is a collection of tweets curated by the Twitter team. Some of the content is contributed by Twitter partners such as BuzzFeed, Mashable, Getty Images, Fox News, Bleacher Report, Entertainment Weekly, NASA, Vogue, MLB, the Washington Post and The New York Times.
Access Moments by clicking or tapping the Moments tab, identified by a lightning bolt icon. You'll immediately see the list of Moments for the day under the tab aptly labeled Today. It is updated in real time as news and events unfold. You can also browse Moments by topic such as sports or entertainment.
Tap on a Moment in the list to view an introduction to the story and its contents, which can include images, video clips, animated GIFs, URLs and tweets. At the bottom of the screen, you'll see a progress bar showing how much more content is available for that Moment. Finally, when you reach the end of a Moment, you can use the share button to send the Moment to your followers.
You can also follow a Moment. This function is particularly useful for Moments of live events such as breaking news or sports that get updates by the minute. When you follow a Moment, you'll see its related tweets on your regular timeline, so you won't need to switch between your timeline and the Moments tab. When the event ends, the Moment also ends and related tweets stop appearing on your timeline.
The new Moments feature is now available in both the desktop version of Twitter and the mobile version on Android and iOS devices.
[Image credit: Twitter]