Driverless cars could cut down on accidents by 80 percent, cited US Senator Gary Peters, Co-Chair, Smart Transport Caucus (D-MI) at the Washington Auto Show this week. And while we are not quite at the point where you can read a book while you sit behind the wheel, but the commitment to safety technology on display at the Washington Auto Show (running thorough January 31, 2016) can benefit everyone on the road — even those with older cars. Here are the highlights.
Traffic Light Alert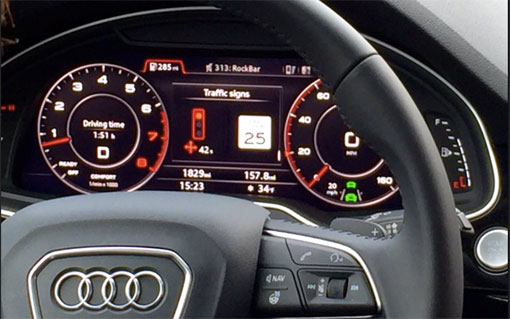 As part of the media day at the Washington Auto Show, we were invited to ride in a Connected Car convoy that had advanced safety features like sensors that tell you when a green light is going to turn red. I rode in a 2017 Audi Q7 which has a countdown clock that can "see" lights change. The car is connected to the traffic light and it detects when a light is about to change.
Collision Avoidance & Lane Departure Assist
Over the last few years, a range of collision avoidance technologies have started hitting the market. For instance, Honda Sensing, in 2016 cars, includes the Collision Mitigation Braking System that brings your car to a stop if it senses a collision with the car in front of you. And the company's Lane Departure Warning and Road Departure Mitigation can actually stop a car that's going up to 90 mph if it is drifting off the road. You'll find these on every trim level of the new Honda Civic Sedan, according to John W. Mendel, Executive Vice President of Honda. Acura, Honda's luxury brand, offers the similar AcuraWatch on every Acura model.
Audi was showcasing its Traffic Jam Assist mode on the Audi Q7. When engaged, the car follows the traffic one to two cars ahead, detecting through sensors how fast they are moving and how fast the car needs to go to keep up. During the demo, our driver emphasized that you still have to pay attention to the road. You can take your hands off the wheel briefly, but you must check back every few seconds. The car detects how long you have had your hands off the wheel and beeps to remind you to place them back on. To start the Traffic Jam mode, a driver has to push the gas pedal so car detects that you really want to move. This ensure the car doesn't take off by itself.
The Audi Q7 also has emergency braking that can sense if the vehicle is going to hit another car or object. The car tightens the seat belts and applies the brakes, bringing the car to a complete stop. The Audi Q7 with autonomous driving features will be on the market by end of 2016.
Image Credit: J. Antell/Techlicious