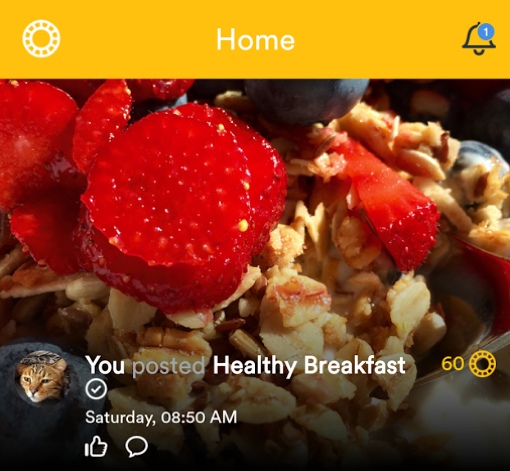 Looking for a way to stay active, eat better and get in shape? Want to earn valuable real-world rewards while doing so? This week, tech startup Wellcoin launched its eponymous fitness app that offers "the world's first health currency" in exchange for exercising, eating healthy, sleeping well, using fitness trackers and a number of other good-health goals that you log into the app.
"Wellcoin was founded on the premise that rewarding people for easy-to-adopt, positive behaviors can help create lasting lifestyle changes," explains Wellcoin Founder Glenn Laffel, MD, PhD, a former attending physician at Brigham & Women's Hospital in Boston. "Our members are inspired by the fantastic rewards in our Marketplace, and also by our community and the support it provides."
Here's how Wellcoin works. First, you download the Wellcoin app (iOS, Android) and use it to sign up for an account. Then, you use the app to log any healthy activity you participate in. You can earn 5 Wellcoin for choosing a healthy beverage such as unsweetened iced tea, 20 Wellcoin for eating a healthy lunch, 5 Wellcoin for eating a healthy snack, 15 Wellcoin for sleeping 7+ hours a night and 5 Wellcoin per 10 minutes of walking. You can also get bonus Wellcoin for sharing location information and if other Wellcoin users "like" your activity. All activity needs to include a photo for verification purposes and can be viewed by the Wellcoin community.
If you'd rather automate your Wellcoin experience, good news: The app connects with a number of popular fitness trackers and apps. Pair your Fitbit with Wellcoin, for example, and you'll automatically get credit for walking and getting a good night's sleep. Wellcoin also pairs with Strava and RunKeeper – great news if you already use these apps.
Once you've accumulated a stash of Wellcoin, you can use the currency to purchase some pretty cool rewards. With 2,000 Wellcoin, for example, I can get a $10 gift card to my local Whole Foods Market or Sports Authority store. With 20,000 Wellcoin you can get a new pair of Puma training shoes; 50,000 Wellcoin buys you a 3D-printed custom fit earphones from Normal. There are some interesting Boston-centric rewards too, if you live in the area like I do: You can get a $10 gift card for the Newton, MA farmer's market and free classes at some local yoga studios and gyms.
As a fitness fanatic, this app is definitely up my alley. I've only been using Wellcoin for a short time now – certainly not long enough to earn and redeem a reward. Still, I can see myself using this app regularly. It's a little bit of work to log every glass of water or protein bar, but connect the app to your fitness tracker and you'll start to automatically earn gift cards without any extra work.
You can download the Wellcoin app for Apple iOS on the Apple App Store and for Android via Google Play. You can learn more about how Wellcoin works by visiting the company's website at wellcoin.com.
[Image credit: Wellcoin]