For many people, charitable donations are made in chunks. But with the power of technology, there are new and easy ways to approach making donations in which small amounts - given in conjunction with tasks you'd already be doing - can make a big difference.
Think about the concept of giving little donations throughout the year while doing simple things like shopping online, browsing the web or even doing laundry; all it takes to get involved is the push of a button.
At CES 2016, Whirlpool unveiled an innovative take on giving back with its Connect to Care program that lets users of its Smart Top Load Washer/Dryers connect to the Whirlpool app and set up automatic donations of 15, 25 or 50 cents to be given to Habitat for Humanity every time they do a load of laundry.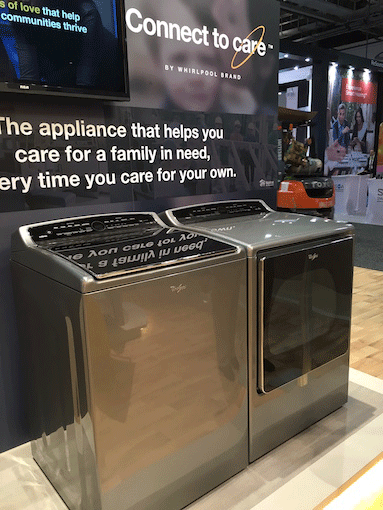 Whirlpool has partnered with Habitat for Humanity for the last 15 years, donating a refrigerator and range to every new home the charity builds in North America - that's about $5 million worth of ranges and refrigerators donated to newly built Habitat homes each year. But the Connect to Care concept allows its appliance owners to give too, using its technology to power donations.
Brand Manager Chelsey Lindstrom explains the thought behind the program, saying, "We know that our appliances help families care for one another, so how amazing would it be if families, as they're caring for one another, could also care for families in need of affordable housing?"
She says this seemingly small amount can actually end up being quite meaningful because on average, it works out to approximately five dollars a month per family. Once set up, users receive a notification from Whirlpool about how much has been given, and Habitat for Humanity handles any documentation for tax write-offs.
Online Shopping for a Cause
For many consumers, shopping via the web for clothing, household products and just about anything else has become the norm. While online shopping helps bring the products directly to you, depending on the sites you're surfing, it can also mean making your dollars spent work for non-profits and charitable organizations.
Some websites find you sellers that donate a percentage of proceeds to charities. If you shop through them, typically, you'll be asked to create an account letting their site act as a portal to the retailers so when you buy, it's recorded as the referrer and a portion of your purchase goes to the charity you've chosen. And in some cases, retailers have set up their own site links so a portion of your money ends up benefitting others. Here are just a few to consider:
AmazonSmile
If you are already a big Amazon user, begin your shopping from the URL smile.amazon.com and 0.5% of your purchase will go to a "spotlighted" charity like St. Jude's Children's Research Hospital and the ASPCA, or a charity of your choosing. Yes, it's still the same Amazon e-commerce giant with the same products, prices and expected services, but a little bit of your purchase goes a long way to helping out.
Giftback.com
Need to buy a gift for someone? Giftback.com says they "name brand products with charitable donations to create highly memorable gift packages." With any gifts you buy, 10 percent of the purchase price will go to your chosen charity.
Shop for Your Cause
Shop for Your Cause encourages users to "shop, click and influence the world." You can shop at more than 2,500 merchants, with various portions of your purchase donated back to your cause. It also has an alternative function that lets you select from a wide range of causes; simply by clicking on them through the site, you'll raise two cents a day for them, no purchase necessary.
Give Back Browsing Online (And for Free!)
If you're already spending time online, it's easy to take action that benefits charities at no cost to you. You could sign an online petition at Change.org or answer a survey at SurveyMonkey, which will not only donate 50 cents to your selected charity, but also give you the chance to win prizes. You can even play a game to make a difference in just seconds or minutes. For example, at Free Rice, you play a vocabulary game and correct answers ensure grains of rice are donated to the World Food Programme, whose mission is to help end hunger. You'd be surprised at how those grains add up!
Any of these options make it easy to give back year-round while doing things you're likely already doing, as opposed to making a bigger donation that's traditionally given at year's end.
As for Whirlpool's new Connect to Care entering the technology space, Lindstrom says the program will likely be integrated into other Whirlpool technologies down the line, growing the potential for users to make a difference in their charity giving.
"We're excited to get it out there and see what kind of impact it makes."