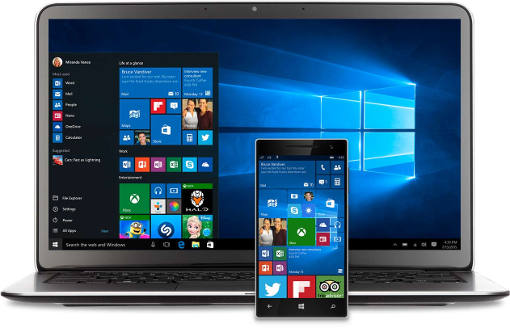 Coming soon to Windows 10 are Skype Integration, the ability to jot notes for Cortana and a cool page preview feature for the Edge browser and other improvements to the Windows 10 interface.
The integrated Skype app features a minimalist design with a two-pane interface. The left pane hosts your contact list, while the right pane displays your conversation threads. You can also hold voice chats within the app. Microsoft has also begun linking Skype accounts with users' phone numbers, so you can easily add Skype contacts to your list just by adding their phone numbers. Replying to notifications is also quicker in the Skype app. You can reply to messages right from the Action Center without having to open Skype itself.
In the Cortana app, you can now add reminders just by scribbling a note using your stylus. Cortana will take note of dates, locations and numbers that you write on your digital notes.
Cortana is also becoming smarter. Proof of this is Cortana's ability to track events via your email confirmation. For instance, if you book a movie online, Cortana notes the email confirmation and creates a reminder for your movie, even suggesting booking a ride to the cinema via Uber.

Windows 10's default browser, Microsoft Edge, is also receiving some love. You'll be able to preview a browser tab's loaded web page by hovering the mouse cursor over the tab. Edge also now supports syncing of bookmarks and your reading list so that you can access them on other Windows 10 computers.
Windows 10 will be getting better context menus for the Start menu, new icons, personalized title bars, the ability to use the last printer as your default printer. Want to get all of these new features now? There available to participants of the Windows Insider program, which is free to join. Once an Insider, you can use the latest preview version of Windows 10 and even suggest features to be added to Windows 10.
Have you upgraded to Windows 10? If you have, find out how to secure your privacy on Windows 10.
[Image credit: Microsoft]