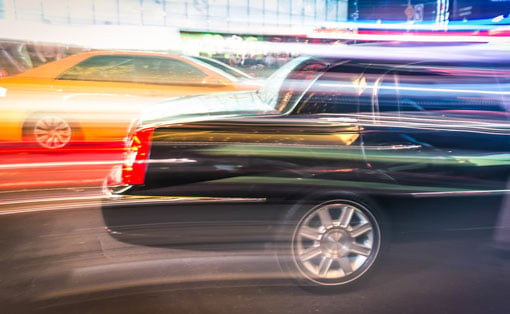 On-demand car services like Uber, Via, Lyft and Sidecar are booming. That's because riders able to hail a ride faster with a smartphone app than by calling a standard taxi and prices are competitive or even lower, especially with the launch of carpooling options.
Uber, which pioneered on-demand car service, is still the heavyweight of this burgeoning industry, with 160,000 active drivers and more than 1 million rides a day. But zooming up behind it is San Francisco-based Lyft, which has painted itself as a friendlier, more casual alternative. Then there's Sidecar, another San Francisco startup that's taking on Lyft's mantle of the friendly lift by encouraging riders to sit up front and offering add-ons of snacks, water and more. All three services offer a carpool option to share rides (and costs) with other people going the same way. Via, a New York City startup, offers only the carpool option and serves only Manhattan for now.
Which service you should use will depend on a variety of factors. We compared the four car services for price, convenience and accessibility so you can make the best choice.
| | | | | |
| --- | --- | --- | --- | --- |
| | Uber | Lyft | Via | Sidecar |
| Driver screening and vehicle safety | Criminal record and driving record check; vehicles average from 2008, none older than 2000 | Criminal record and driving record check; vehicles must be 2003 or newer, 2005 in a few states | Drivers must have a NYC TLC for-hire vehicle license; cars must be sedan or SUV from 2010 or later | Criminal record and driving record check; cars must be 2000 or newer |
| Pricing | Metered, UberPool fares are discounted and you're given a flat rate at the time of booking | Metered, Lyft Line fares are discounted 10-60% and you're given a flat rate at the time of booking | Flat fare: $5+tax if you buy Via credit, $7+tax otherwise. Each additional passenger is $2.50 | Flat fare; drivers name their price |
| Regions covered | 58 countries and most major U.S. cities | 59 cities in the U.S. | New York City; Manhattan only | 10 U.S. cities including LA, SF, Boston, Chicago, Washington D.C. |
| Max passengers | 2 on UberPool, 4 on UberX, more if you choose the pricier Uber Lux | 2 on Lyft Line, 4 on Lyft, 6 if you choose Lyft Plus | 4-7, depending on the car | 4 as standard, extra seats able to be requested |
| Carpool | Yes, UberPool | Yes, Lyft Line | Yes, that's the only option | Yes, Shared Ride |
| Disability access | Yes | Yes (but must usually be requested 24 hours in advance) | No | No |
| How much do drivers make? | 80% of fare; no in-app tipping | 80% of fare; 100% of in-app tips | Hourly rate depending on type of car: $1,800+/week for a luxury SUV, $1,200+/week for a sedan | 85% of fare; 100% of in-app tips |
| Driver guaranteed pay | Yes, min. $20/hour as long as driver takes one ride an hour | Yes, varies between cities | Yes, at undisclosed guaranteed hourly rate | Yes, min. $30/hour |
| You'll love ... | The in-app ability to split a fare with a fellow passenger | Sitting up front makes the ride chattier and more like getting a lift from a friend | The simplicity of a $5 ride no matter when or where | With drivers bidding fares for your route, you get to choose the best combo of ETA and cost |
| Watch out for ... | Tendency to start "Surge" pricing that can go up to 4x during rush hour and peak times such as holiday evenings | PrimeTime pricing kicks in at peak time and rush hours – not so much like hitching a friend's ride | Via only operates between 6:30 a.m. and 9 p.m., Monday - Friday | If you're in a city with fewer Sidecar drivers (outside California, Sidecar's home state), the marketplace model of drivers bidding for fare costs may work against you |
Uber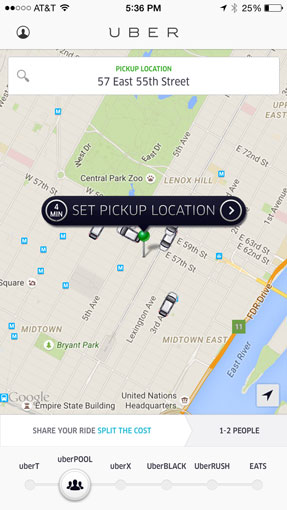 The juggernaut of the on-demand car service industry has had its fair share of controversy, from privacy concerns over Uber executives being able to track riders to worrying reports of assault by drivers. Yet this hasn't stopped the service from serving 140 million rides last year in the United States, with the app downloaded to the smartphones of 55% of the population.
Uber's ace in the hole is the ubiquity of its 160,000 drivers. In San Francisco, 97 percent of completed trips arrived within 10 minutes (and, anecdotally, a high proportion of trips in major cities arrive in two minutes). Thanks to a driver feedback rating as well as GPS route tracking, disputes over routes taken are easily resolved with riders able to hit the complaints section on the desktop to request a refund.
Currently undergoing a probe into its disabled access options, Uber does offer the ability to order wheelchair-accessible vehicles. Last week, it launched UberASSIST in Houston. Type ASSIST into the Promotions section to order a driver specially trained to assist riders into vehicles, with space for folding wheelchairs and scooters.
While other on-demand car services require the use of smartphones, Uber is starting to tap the third or so of Americans still using regular phones. Textber is an add-on (currently in beta) that allows people to text Uber with their location and destination for a fare estimate and cab request.
Platforms: iOS, Android, Windows Phone and regular phones
Ease of use:Excellent. The app interface is intuitive and slick, with a map that updates cab locations in real time. You can also track a cab's route to keep an eye on the rider or to check you're going the most direct way.
Maximum passengers: Four for UberX, the company's fleet of non-professional drivers, six if ordering UberXL, 2 if ordering UberPool.
Carpool? Yes, you can select UberPool to share a ride with other passengers going the same way, splitting the overall cost.
Disabled access: Yes, slide to the UberT option at the base of the screen, then select WAV. In Houston (more cities to follow), riders can type ASSIST into the Promotions code to request drivers trained to aid people into cars.
Availability: All over the world, including 172 U.S. cities.
Great for: Hailing a cab anywhere in the world without worrying about having the correct currency. With Textber, you can also text for a cab if you can't or don't want to use internet (say, if your battery is running low).
But: Surge pricing can drive up fares by up to four times — and it can happen not just at peak traffic times but also if there aren't enough Uber drivers on the road. In these cases, you may want to compare prices with other apps or a standard taxi or minicab.
Lyft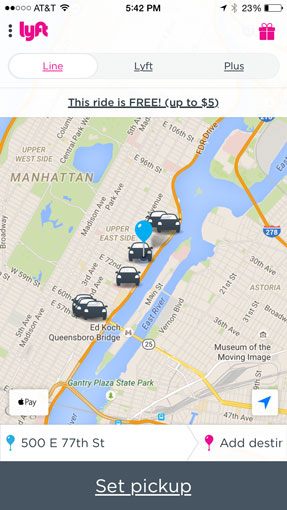 Another San Francisco startup gone national, Lyft is aiming its headlights at the portion of the community that enjoys the social aspects of the on-demand car service. Passengers can sit up front if they want to chat with their driver; once upon a time, it was de rigeur to greet a Lyft driver with a fistbump.
As of last November, Lyft appears to be trying to match Uber's professional chauffeur image, emailing its customers with the note that the fistbump wasn't necessary, nor was riding up front.
Nonetheless, Lyft cars in major U.S. cities (with global expansion coming but not confirmed) have hit an average ETA of two minutes in San Francisco, 2.5 minutes in LA and 3 minutes in New York City.
In every city where Lyft operates, a new deal with Starbucks means that you can earn Starbucks points for every Lyft ride, eventually scoring yourself a free cup of joe. Drivers automatically get the Starbucks Gold perk status and earn "Stars" for every ride they offer.
Like any on-demand car service, both passengers and riders are rated after each ride. Unique to Lyft, any three-star ratings on the rider or driver side are never matched again.
Lyft has also come under fire for a lack of accessible vehicles. While Lyft offers an option for requesting a wheelchair-friendly car, its help page warns that many of the vehicles require booking in advance at least 24 hours, negating the on-demand draw that these car services offer.
Platforms: iOS, Android
Ease of use: A smooth, modern app makes hailing a ride fast and easy, with real-time refresh of your car's movements.
Maximum passengers: Four people in the regular Lyft, six if you call a LyftPlus, two if you use Lyft Line.
Carpool? Yes. In LA, SF and NYC, you can hail a Lyft Line and hitch a car already going that way.
Disabled access:Technically, yes. Hit Settings > Services > Access to enable calling wheelchair-accessible vehicles, though it may not necessarily arrive on demand.
Availability: 65 U.S. cities
Great for: Chatting with your driver and picking up Starbucks points thanks to the new Lyft-Starbucks partnership.
But: Unlike Uber, Lyft isn't yet available outside the United States, so if you're a frequent traveler using on-demand car service apps, you'll need to use both Lyft and Uber.
Via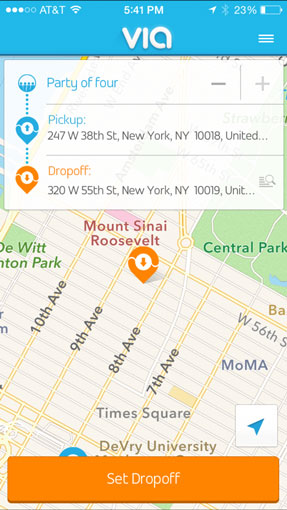 As Lyft and Uber evolve to take on traditional taxicabs with the accompanying professional bells and whistles, Via offers a refreshing move back to basics. This NYC-only ridesharing service homes in on the humble carpool — hail a Via to get picked up on a ride shared with anyone else going in the same direction. At the moment, it only operates in Manhattan from Houston Street to 110th Street and only between 6:30 a.m. and 9 p.m Monday through Friday.
The pricing model is reassuringly simple as well. All rides are $5 (plus local tax) if you're using prepurchased ride credit or $7 (plus tax) if you're paying for each ride as you go. Each additional passenger in your group is $2.50. Payment is deducted through the app, either from ride credit or your preloaded credit card.
Via also supports payment through commuter benefits debit cards, including WageWorks, TransitCheck, Beniversal and more. In these cases, riders always get a vehicle that seats six or more. If you have a pet, rejoice! All Via cars take pets at no extra charge, as long as they're in an airline-approved carrier.
In-app ratings keep drivers and riders civil, while the flat fare for rides means passengers can relax about being taken on the scenic route. You'll be picked up within a block of your location and dropped off within three blocks of your destination. You won't always be driven on the fastest route, but it will be a direct route.
Via drivers are professional and licensed by the city, which is reflected in the way they're paid. Instead of the incentive model employed by Uber and Lyft, drivers are paid by the hour, depending on the type of car they drive. Luxury SUV drivers earnings start at $1,800 per week, or $1,200 per week if they drive a five-seater.
Considering hiring your ride out? Via is currently offering a $1,000 signing bonus.
Ease of use: The Via app stands up with ease to its competition, with the same real-time refreshing map interface that shows nearby cars and a simple GPS-based ride-hailing feature.
Maximum passengers: Eight, although it's unlikely you'll be hailing a Via for a group; the app is intended for carpooling short rides.
Carpool? Yes — there's no option for a private ride (unless you turn out to be the only person going a particular route).
Disabled access: No, not officially
Availability: Manhattan only
Great for: That Monday morning carpool if you live and work in Manhattan.
But: If you're in a rush, it may be annoying to have to stop to pick up and drop off other people, and you won't necessarily be taken on the fastest route.
Sidecar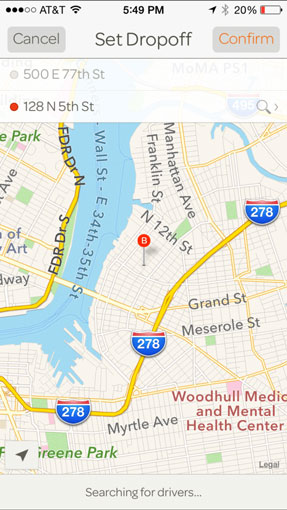 Unlike Lyft and Uber, Sidecar offers no highball pricing for peak-hour traffic. Instead, drivers state their price for a given route, and riders scroll through the list of ETAs and fare quotes to choose their driver. For example, if you need more time to get ready, you might choose a driver who's a bit further away. To cut costs even further, click on Shared Rides to carpool with another passenger going the same way.
There are also options for choosing cars that have extra seating, snacks or water, handy if you're going a longer distance.
Sidecar is the most driver-friendly platform. Its in-app ratings feature lets you favorite and request particular drivers, thus rewarding in a very tangible way drivers who offer the best service. Where Uber guarantees $20 per hour (topping up if drivers don't make that, as long as they've driven one ride), Sidecar guarantees $30 per hour.
As with the other apps on this list, payment is made via the app, so no money ever need change hands.
Ease of use: A slick app for hailing a ride, rating drivers and riders, as well as cool features for choosing extras you'd like to request such as extra seats.
Maximum passengers: Four, usually, with the ability to request a cab with up to seven seats.
Carpool? Yes, using Shared Ride option.
Disabled access? No. On its site, Sidecar recommends disabled passengers call for a wheelchair accessible vehicle from official accessible taxi services.
Availability: 10 U.S. cities including SF, LA, Boston, Chicago, Charlotte, Washington D.C., Seattle
Great for: A casual, friendly ride (riders are encouraged to sit up front) with control over what you pay. Instead of paying according to a meter like Lyft and Uber, riders can choose from a list of flat fares quoted by each driver.
But: This marketplace model works less fairly when there are fewer Sidecar drivers around, and if you're travelling (or living) outside the 10 cities where it currently operates, you'll need a different service.
[Image credits: Uber, Lyft, Via, Sidecar, Shutterstock: Limo and Taxi Cab]