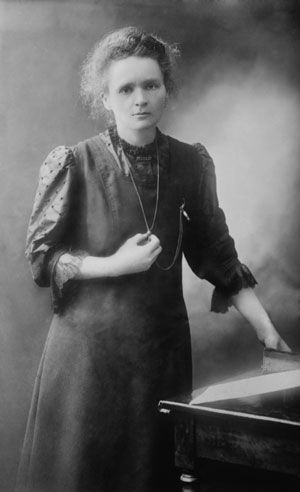 March is Women's History Month, and this is a wonderful time to reflect on the women who have inspired us in our personal and professional lives. There are a number of talented women who have inspired me over the years, but the first to stir my interest in science and technology was Marie Curie. A pioneering scientist in the field of radiation, Marie was the first woman to win a Nobel Prize, and the only woman to win two Nobel Prizes for her discoveries.
Marie Curie (nee Sklodowska) was born in Warsaw, Poland in 1867. In 1891, at a time when few women were going on to higher education, much less involved in the sciences, she left Poland for the Sorbonne University in Paris to study physics and mathematics. There she met her future husband, Pierre Curie,an instructor in the School of Physics, and they were married in 1895.
Together, Marie and Pierre conducted ground-breaking work investigating the newly discovered phenomenon of radioactivity. In 1898, they identified two new elements, polonium, named after Marie's country of birth, and radium. Over the next four years, Marie and Pierre composed 32 scientific papers on radiation, including one that showed radiation's ability to destroy tumor-forming cells faster than healthy cells.
In 1903, at the age of only 36, Marie was awarded the Nobel Prize for Physics; the first woman ever to win.
Tragically, her husband Pierre was killed in a carriage accidents three years later. The Sorbonne offered Marie his teaching position and she became the first woman to teach there. She continued her research into radioactivity and, in 1911, received her second Nobel Prize for Chemistry.
Marie's scientific efforts were put to practical use for the development of X-rays. And during World War One, she worked with the Red Cross to set up mobile X-ray centers on the front lines to help treat wounded soldiers.
Unfortunately, her research into radiation ultimately led to her death from leukemia in 1934, the dangers of radiation being unknown at the time.
I first learned of Marie Curie's story in high school and her achievements were a great inspiration for me and my pursuit of science and technology. After college, I joined the staff of Popular Science to help tell the world about the new advances in technology taking place every day. I rose to become Pop Sci's Senior Technology Editor, yet there were plenty of times that I felt a little like Marie Curie, as a female technology journalist in an almost entirely male world.
In 2008, I decided that the best way to achieve my vision of helping everyone—men and women—get more out their technology was to start my own company. And that is how Techlicious was born. Now, eight years later, nearly a million visitors turn to Techlicious.com every month for tech advice, and we've syndicated our contentto USA Today, MSNBC, Time and many other leading media outlets. I appear frequently on TV and radio, and hold in-person events around the country to inform other bloggers about the latest technology trends.
Fortunately, times have changed since I first launched Techlicious. Now more women than ever are more involved in STEM (science, technology, engineering and math) than ever. To celebrate these achievements, we're partnering with Lenovo to recognize these top 10 women kickstarters under the age of 31. Click on the image to learn more about these women and their amazing projects.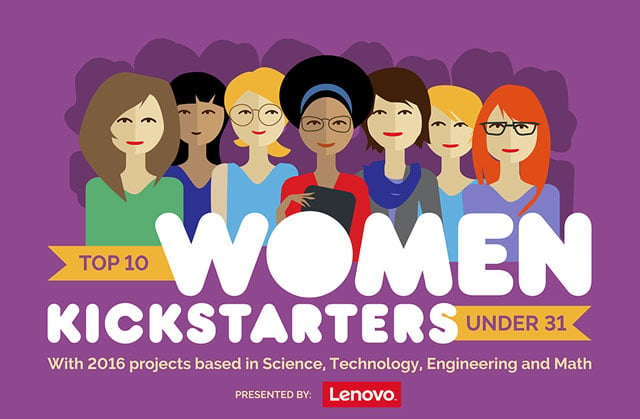 Have other women who were an inspiration to you? Tell us who they are in the comments below!
[Image credits: Infographic via Lenovo, Marie Curie via Shutterstock]