When I first saw the plate of mini cakes and cookies that had been created with Hasbro's Easy-Bake Deluxe Delights Cake & Cookie Kit, I thought that they had been made from Play-Doh. The bright colors, exquisitely stamped designs and cute rolling pin all pointed in that direction.
I soon found out, though, that all the confections were in fact edible. They were baked in a regular microwave oven and then decorated with fondant using the Deluxe Delight's Cake & Cookie kit's kid-sized tools.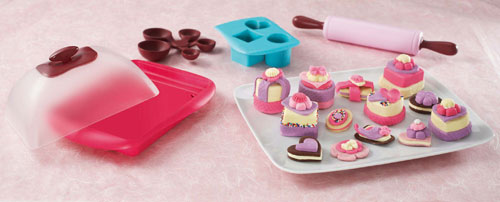 The Hasbro Easy-Bake Deluxe Delights kit ($30) includes a microwave container and lid, rolling pin, measuring spoons, cake pan, four cookie cutters, fondant mold, fondant stamper, embossing plate and enough mixes to create six decorated cakes and seven cookies.
Get your child practicing now and maybe you'll save some money on that cake when their wedding day rolls around! For ages 8+. Available this Fall.