9 Christmas Apps Sure to Bring Holiday Cheer
Techlicious editors independently review products. To help support our mission, we may earn affiliate commissions from links contained on this page.
Looking to spread some holiday cheer? Check out these fun and helpful apps.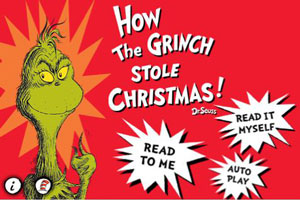 The Grinch Who Stole Christmas! (iPhone/iPad, $3.99
; Samsung Galaxy Tab, $3.99)
This Dr. Seuss classic comes to life in the "How the Grinch Stole Christmas" ebook. Choose from "Read to Me," "Read it Myself" or "Auto Play" modes.
PopOut! The Night Before Christmas (iPhone/iPad, $4.99)
This fully-interactive version of "The Night Before Christmas" is a virtual pop-out book with objects that jump off the virtual page. You can also touch objects to bring them to life. Choose from "Read to Me" or "Read it Myself" modes.
Santa Tracker (BlackBerry, $1.99)
Write and send letters to Santa and track Santa as he flies around the world on Christmas Eve delivering toys. The map is fully zoomable and shows an accurate satellite map. Try 3D Santa Tracker for iPhone ($0.99).
Super Dance Elf Christmas with Friends (iPhone, $0.99
)
Take photos of family and friends and turn them into dancing Christmas elves. Playback the videos on your phone and share a snapshot with anyone or the video with others that have the app.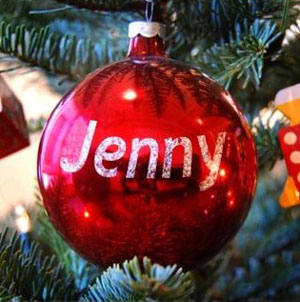 Xmas Frames (iPhone, $0.99
)
Send loved ones a photo holiday greeting with their picture or their name incorporated into the photo. The name integration is especially slick.
Slacker Radio (iPhone/Android/Windows Phone 7/BlackBerry/Palm webOS, Free)
Put yourself in the holiday spirit by tuning into one of the holiday music channels. "Like" the songs you want to hear more often or "ban" the tracks you don't like from being played on the station again.
iFinger (iPhone, Free)
Need help with your holiday wrapping? iFinger calculates the dimensions of the wrapping paper you'll need based on the dimensions of the box you're wrapping. The app then steps you through exactly how to wrap your present. Use your phone in place of a finger while wrapping.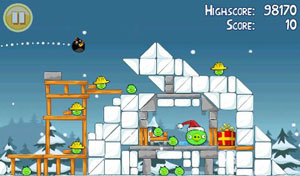 Angry Birds Seasons (iPhone, $0.99
; iPad, $1.99; Android, Free)
If you haven't already gotten hooked on Angry Birds, I apologize for introducing you to this highly addictive game. The premise is that pigs have stolen eggs from the birds and you have to shoot birds from a slingshot to knock down structures and knock out the pigs that are hiding inside. For the Seasons version of the game, a new level opens each day until Christmas, just like an advent calendar.
Holidays Wallpaper Collection (iPhone/iPad, Free)
Spruce up your phone with festive holiday wallpaper. There are 150 images to choose from including Christmas and Hanukkah. Try Christmas Wallpapers Volume 5 for Android phones (Free).
Discussion